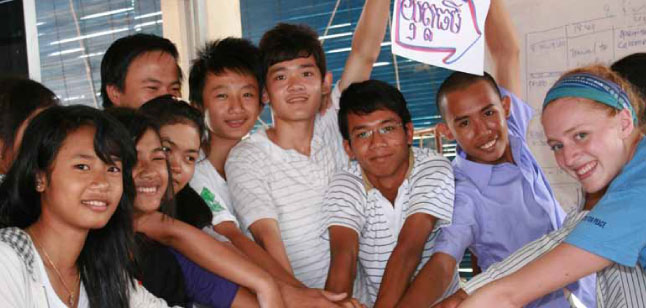 ---
Leah Roth-Howe '08
The Khmer Rouge genocide is not included in the formal Cambodian education system. Leah initiated a series of workshops that provided a safe space for Cambodian students to confront their country's history of violence, ask questions, and creatively express their reactions. Her project began in Chicago: Working with the Cambodian Association of Illinois, she organized intergenerational dialogues among survivors, their descendants, and other students. She next traveled to Cambodia to work with Youth for Peace (YFP), creating additional workshops. Workshop participants, including students, Khmer Rouge survivors, and former Khmer Rouge soldiers, were better able to express themselves through visual imagery than through words. Leah connected with galleries in the United States interested in exhibiting the artwork and at the request of YFP, led subsequent workshops at its International Youth Peace Conference.
Zainab Mansaray '09 and Arthur Sillah '10
Arthur and Zainab set out to rehabilitate the Sierra Leone Muslim Brotherhood Primary School and organize workshops that encouraged the students to unite in collective community service. The idea of collaborative service for the public good was a new concept for the children. The workshops motivated students to create different projects to help others, such as cleaning the local hospital and distributing malaria nets. A major effort included building a two-classroom structure—furnished with desks, chairs, blackboards, and 900 government-approved books—that continues to house most of this school's classes. Every student received school supplies and 10 were given scholarships for a full year of tuition, books, and supplies. Students now study within a classroom rather than under trees.