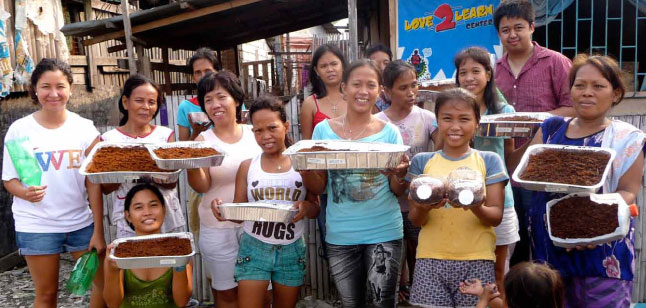 Building Walls and Breaking Barriers

Michael Manansala '12 of St. Paul, Minn., and Cecelia Martinez-Miranda '13 of Manila received a $10,000 grant under the Davis Projects for Peace initiative funded by philanthropist Kathryn Wasserman Davis. Their project is one of 100 selected for funding through a competition on more than 85 campuses, in which students designed grassroots projects for peace that they themselves will implement throughout the world.
Manansala and Martinez-Miranda intend to introduce to children living in desperate conditions the concept of growing food, and doing it with few resources. At a school serving children whose families survive by scavenging in a gigantic Manila garbage dump known as Smokey Mountain, Manansala and Martinez-Miranda are installing a vertical vegetable garden, rainwater collection system, and compost bin.
Smokey Mountain is a two-million-ton garbage heap that has served for more than 40 years as a waste disposal facility for metropolitan Manila. A large squatter community collects glass, metal, paper, and plastic each day, selling to middlemen who in turn sell to recycling factories. Because about 700 families depend on their children to help generate income, thousands of children have had no opportunity to attend school.
A new school, run by the Philippine Christian Foundation, is offering free education to students from the Smokey Mountain area, along with free lunch, uniforms, shoes, and school supplies. The school is constructed from shipping containers.

"Our project aims to beautify the school and create a healthier, more positive learning environment," said Manansala and Martinez-Miranda's proposal. "We will grow vegetables and herbs on the exterior walls of the school that will be used to feed the students, and we will introduce and instill the concept of sustainable livelihood in an impoverished urban community." –
They believe their project will produce needed food and also create an ambiance of life and growth that is mostly absent in the Smokey Mountain area. "Beyond supporting a school that helps the poorest of the poor," they wrote in their proposal, "we hope to rekindle the sense of appreciation and respect for the ecology that was lost when the Smokey Mountain area became a dumpsite and industry switched from agriculture and fishing to scavenging for trash."
Manansala and Martinez-Miranda will train students and teachers on how to maintain the systems, will create materials for teaching about them, and will return during the year to monitor progress.
Michael Manansala was born in the Philippines and moved to the United States in 1999. As a high school student, he spearheaded a campaign that led to the founding of a nursery school in Vietnam. At Macalester, he is a Bonner Community Scholar, through which he has led a mentorship program focused on college access for local junior high school students. He also founded the Macalester Development Group to involve students in the study and discussion of global development.
Cecilia Martinez-Miranda was born and raised in the Philippines, where she co-founded a nonprofit group, WE International Philippines. The group has worked with children from the Smokey Mountain area, providing support for 300 of them to attend school. It also provides medical attention and career training for the students. At Macalester she is also a member of the Macalester Development Group and a member of the Lives of Commitment Program, a first-year program of service and reflection on living a committed life.
Kathryn Wasserman Davis launched the Projects for Peace initiative on the occasion of her 100th birthday in 2007. She is the mother of Shelby M.C. Davis who funds the Davis UWC Scholars Program currently involving over 85 American colleges and universities, including Macalester; the competition involves students from those colleges.