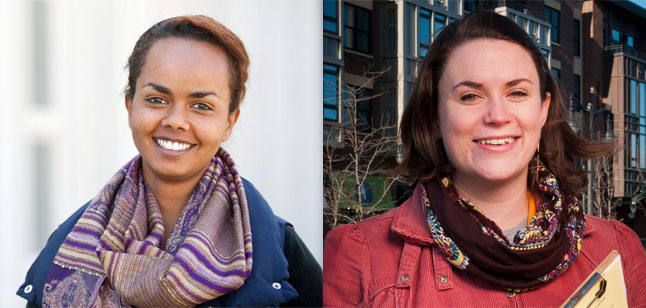 Selamawit Gebremariam '13, Ethiopia
Iimproving health care in a community in the Oromia region of her home country, Ethiopia
This will involve drilling a new well within the Green Lake Clinic compound, which is responsible for health care services to over 40,000 people. In addition, a variety of educational outreach programs will be developed to educate the community on sanitation practices and the importance of safe water to reduce water-borne diseases.
After returning home to Ethiopia last winter, Gebremariam realized just how important her project proposal had become to the Green Lake community.
"After I left, I knew I could not let the people down and promised to myself that I would do everything I could to make it a happen," said Gebremariam. "I could not have asked for a better summer but for a summer of giving back to my country. It is very fulfilling to be doing so."
At the beginning of the process, Gebremariam was clueless in trying to find a project that was doable in 2-3 months and fit her interest, but she was sure she wanted to be involved in community health with a direct influence on women.
"By building a well for Green Lake Clinic, the health care service to the whole community will be significantly improved," said Gebremariam. "In addition to building the well, I will be giving, with the help of community members, water sanitation educational outreach programs teaching the community about the importance of safe water. This part will also have focus on women, as they are the ones who make daily household decisions that involve water. By increasing their awareness of the importance of safe water and sanitation practices, their families' and the community's life at large will be improved."
Gebremariam is a biology major with a community and global health concentration.
Charlotte Fagan '12, of East Greenwich, R.I
Started a bike lending library for Carishinas in Quito, Equador
Her project, "La Biblioteca de Bicis para Carishinas: the Bike Lending Library for Carishinas in Quito,"will take her back to Quito, to start a "bike library" because riding a bike for women there can be an intimidating and difficult.
"When I started Carishinas en Bici in 2010, the aim of the collective was to make biking accessible to everyone across race, gender, class, and sexuality," said Fagan. "We first started by focusing on gender, but really wanted to address the issue of class divides in the bike community. That's why we choose to use the Davis Projects for Peace Grant as an opportunity to start a bike lending library to low-income women, with a focus on transitioning women into bike ownership."
The women will also learn the practical skills of bike mechanics and share their perspectives and reflections in discussions throughout the city. Economic empowerment is also a goal as the bike lending library will encourage women to work toward purchasing their own bike as personal transportation, freeing the original bikes to be loaned to others.
Fagan is majoring in geography with a concentration in urban studies.
Both women are on Macalester's Ultimate Frisbee team but didn't know the other had applied for the grant until they met in the Davis Projects for Peace interview room.
Kathryn Wasserman Davis is the mother of Shelby M.C. Davis who funds the Davis UWC Scholars Program currently involving over 90 American colleges and universities, including Macalester; the competition involves students from those colleges.
"I want to use my birthday to once again help young people launch some initiatives that will bring new energy and ideas to the prospects of peace in the world," said Kathryn Davis. "My many years have taught me that there will always be conflict. It's part of human nature. But love, kindness, and support are also part of human nature, and my challenge to these young people is to bring about a mindset of preparing for peace instead of preparing for war."