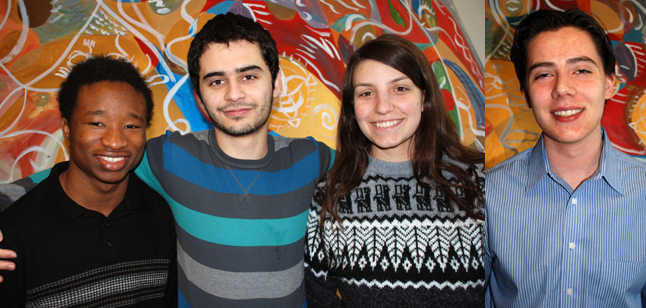 Valentino Grbavac '15
Reconciliation Through Education
Bosnia and Herzegovina
Valentino's goal was to improve the quality of education for local children and promote multicultural understanding and reconciliation among the students still experiencing the effects of the 1990s war. He worked with others to renovate the school's chemistry classroom into a working lab and to purchase lab supplies for chemistry, physics, and the IT lab. Workshops with youth and a local media campaign promoted the peace-making goals of the project.
Joseph Vandy Sengeh '16, Andrea Grimaldi '16, and Omar Mansour '16
Zinc and Latrines for Peace
Kpetema, Sierra Leone
After the 10-year civil war in Sierra Leone, families returned to their village and have been struggling ever since to rebuild. This team replaced the leaky thatch roofs with zinc roofs on 15 homes, the mosque, and the birth attendant's home before the rainy season started. They also worked with villagers to build additional pit toilets and repair the water pump. Finally, the women learned to make soap and started a soap production business while learning the importance of good hygiene.