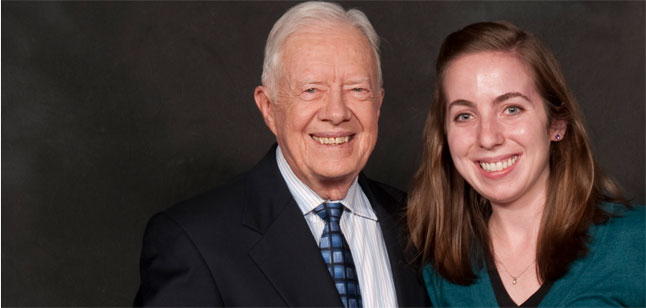 Krista Moore '10 studied abroad in Tunisia, worked for former President Jimmy Carter in Atlanta, and will soon begin graduate school in France. She credits her education at Macalester for opening all these doors.
[Jimmy] Carter told her what a high opinion he had of Macalester.
"Macalester exceeded my expectations with its internationalism, challenging academics, and student engagement. Discussions around the dining hall table could be just as thought-provoking as discussions in the classroom."
Moore majored in international studies at Macalester, and spent a semester abroad in Tunisia, where she learned Arabic, practiced her French, and learned about globalization in the region. She wove her experiences into a senior honors thesis on language policy and postcolonial national identity in France and Tunisia.
After graduation, she headed to Atlanta for a development internship at the Carter Center, a nonprofit focused on human rights work. Moore—who was surprised to find herself one of the youngest interns—researched prospective donors and wrote briefings for former President Jimmy Carter.
A highlight of that internship came over a barbecue lunch in Carter's hometown of Plains, Georgia. Moore grabbed the last seat at a table with the former president, and after she had introduced herself, Carter told her what a high opinion he had of Macalester.
This spring, Moore returns to Tunisia to work as an assistant for her former study abroad program. After that, she's off to Paris for a two-year master's program in international security.
"After studying in Macalester's international environment, I knew I wanted to pursue graduate school abroad," she says. "It will be a challenge, but I'm excited, and I'm confident that my Macalester education has prepared me well."
Read her honors project in Digital Commons: Memories of la Mission Civilisatrice: Language Policy and Postcolonial National Identities in Tunisia and France