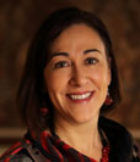 Associate Professor of International Studies
Dynamics between poverty, health care seeking behavior and health system response, particularly for the care of infectious diseases.
651-696-6170
chanson5@macalester.edu
On Sabbatical (Academic Year 2017–2018)
Christy Hanson joined Macalester in 2011 as the Hubert H. Humphrey Distinguished Professor. In 2012, she was named Dean of the Institute for Global Citizenship and served the college in this role until the end of 2015. She re-joined the faculty full-time in 2016 and is currently an Associate Professor in the International Studies Department. Concurrently, Professor Hanson serves as a Senior Policy Advisor to the Global Health Bureau of the U.S. Agency for International Development (USAID), through an inter-agency partnership arrangement with Macalester.
Prior to joining Macalester, Dr. Hanson was the Chief of Infectious Diseases for USAID and had previously held positions with the World Health Organization, World Bank and PATH.
In her teaching and research, Dr. Hanson draws from over 20 years' experience in international public health. Her primary area of research is the dynamic between poverty and infectious diseases. She has published more than 20 articles and book chapters, and has made significant contributions to her field through public scholarship conducted in collaboration with the governments of various low-income countries. Dr. Hanson has worked in over 50 countries in sub-Saharan Africa, Asia, and Latin America, providing technical and policy development guidance to Ministries of Health.
Dr. Hanson is currently a member of the World Health Organization's Strategic and Technical Advisory Group, and is on the Boards of Directors of the American Refugee Committee and Helen Keller International. She is a member of the International Advisory Board to McGill University's Global Health Program. Hanson holds a Master's in Public Health from the University of Minnesota, and a PhD in International Health Systems with a health economics concentration from Johns Hopkins University.
ARC Refugee Panel List (Dec. 1, 2016)
BA: University of St. Thomas
MPH: University of Minnesota
PhD: Johns Hopkins University