The Office of Student Leadership and Engagement (OSLE) provides opportunities for students to explore and enhance their leadership. OSLE supports students throughout all stages and experiences in their leadership development through a variety of programs, positions, trainings, and events. Though leadership is in our name and core to what we do, we recognize that entities across Macalester support students in leadership development. OSLE is committed to supporting leadership efforts and helping students navigate opportunities, wherever they occur at Macalester. 
Explore OSLE's current leadership development offerings below!
Get Involved with Student Orgs
What better way to continue or start your leadership journey than joining or creating your very own student-run organization!
To explore Macalester's 80+ active student orgs, visit Presence! You can search by org type, read about org missions, and get in touch with the groups you are interested in!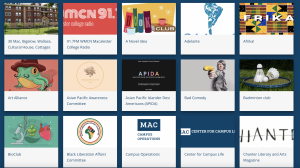 Interested in starting an org? Contact [email protected] to chat with the Student Orgs Committee Chairperson about how to pursue the chartering process. The deadline for starting the process this semester is March 4.
If you're a student org looking for org management and leadership resources check out our student orgs webpage or contact [email protected] to chat!
Spring SLAM
SpringSLAM is a new two-day event made up of the Student Org and Leadership Opportunities Fair and Leadership Learning Day.
The January Student Org & Leadership Opportunities Fair is a chance for students to connect with student orgs and learn about leadership opportunities for the spring or upcoming fall semester. This event was created from feedback that student leadership opportunities could be more centralized and easy to navigate at Mac.
Questions? Contact us at [email protected]
The Student Leadership Challenge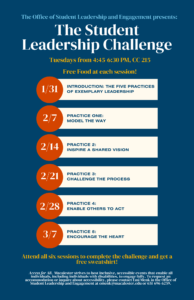 The Student Leadership Challenge is a 6-session series open to all students interested in improving their leadership skills! This interactive workshop series is based on Kouzes and Posner's the 5 Practices of Exemplary Leadership. The Five Practices of Exemplary Leadership is a behavior-based model of leadership that offers benefits to students at all stages of leadership development and is based in over 30 years of leadership research.
Students who attend all six sessions will receive a sweatshirt and a certificate of completion at the final session. For Spring 2023, the 6-week session will be on Tuesdays from 4:45-6:30 PM, starting on January 31 and concluding March 7. Students planning to attend are asked to RSVP in advance.
Register for the Spring 2023 sessions of The Student Leadership Challenge!
Questions? Contact Emi Menk ([email protected])
Orientation Leaders & Orientation Coordinators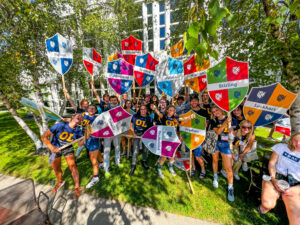 Orientation Leaders (OLs) support new students as they enter the diverse academic, intellectual, and social culture of Macalester throughout our five-day Orientation program. These student role models provide reassurance, help students start to shape their own Mac experience, encourage involvement in campus life, build Mac's community of respect, and provide information about campus resources and services. OLs are also invited to facilitate supplemental Life at Mac Workshops & Wellness Breaks. Orientation Leaders participate in a four-day training program focused on collaboration, trauma-informed facilitation, inclusive leadership, active listening, and navigating group dynamics. This is a volunteer position.
Check out the 2023 OL position description and Google form application!
Orientation Coordinators (OCs) play an integral role in the creation of a welcoming environment for new students and their families as they transition into the Macalester College community. The OCs also assist with the planning, implementation, and coordination of Orientation Leader training and all Orientation content and events. They also serve as peer leaders and mentors to the OL cohort. This is a paid ~30 hour/week summer position open to three students. OCs must have already served at least one year as an OL to be eligible.   
Check out the 2023 OC position description and Google form application!
Questions? Contact Emi Menk ([email protected])
AugSLAM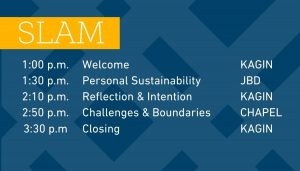 Each August OSLE coordinates AugSLAM, a half-day leadership learning program for 100+ students participating in a range of  leadership roles on campus in partnership with Residential Life, CRSL, and the Hamre Center for Health and Wellness.
Questions? Contact Laurie Adamson ([email protected])
Student Organization Leader Trainings
OSLE Student Employees
OSLE provides meaningful educational opportunities and leadership development coaching through student employment. Student staff are an integral part of the daily operations of our office.
Current OSLE student staff positions include: Student Leadership Assistants, Office Desk Assistants, Social Media Assistant
Questions? Contact OSLE ([email protected])
Student Leadership Development Workshops
OSLE, in collaboration with our Student Leadership Assistants, has developed workshops covering a range of leadership skills and competencies to be offered to the general student body and interested programs, classes, or teams. As of Spring 2023, we have the following topics available:
Conflict Resolution
Group Facilitation
Mentoring
Communication
Marketing
Collaboration with other groups
Goal-setting
Individual Facilitation (making the most of 1-1 meetings)
Macalester Student Government Advising
OSLE staff serve as primary advisors for several key student government leadership positions. As advisors, we support students in leading committees, making ethical decisions, working across difference, advocating for student needs, and being responsible stewards of funds.
MCSG Executive Team & Legislative Body – Advisor, Laurie Adamson
Financial Affairs Committee Chair – Advisor, Emi Menk
Program Board Chair & Student Organizations Committee Chair – Advisor, Fleury Clark Girimana
Questions about getting involved with MCSG? Contact [email protected]