The Barbara B Davis SPACE (room 309)  is envisioned as both a welcoming and open place for all members of our community and a reservable space for events that support coursework, research needs, and social activity.  We are not able to offer custodial setup support, but we invite users to configure the mobile furnishing to suit their event. When the SPACE is not reserved for events, it is open as a collaborative study space.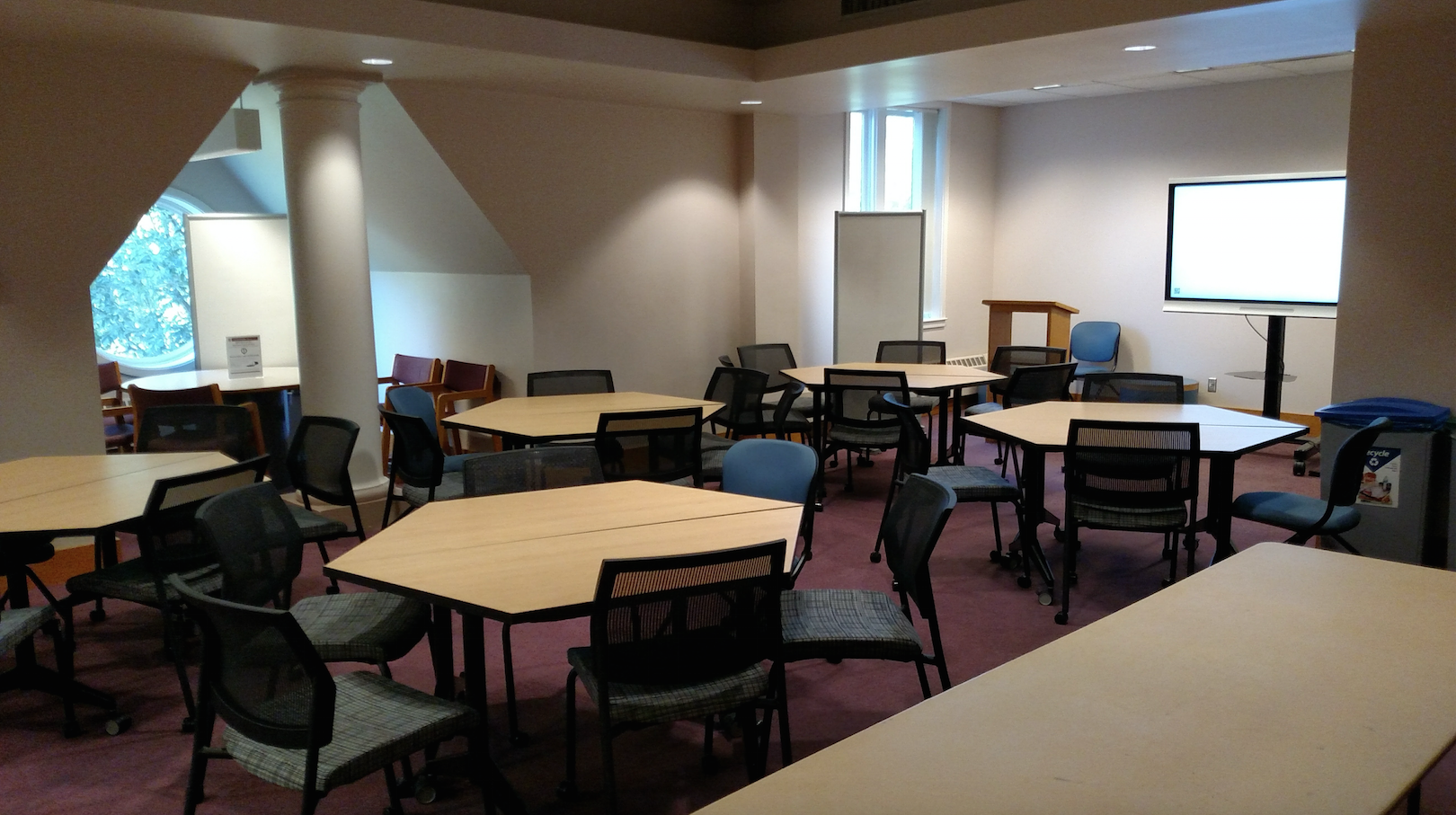 Parameters for Barbara B Davis SPACE reservations:
All events must be college-related or hosted.
Though maximum room capacity is 49 including speaker, the space works best for groups of up to 35 attendees. Our minimum booking number of attendees for events in this room is 5.
Event hosts may reconfigure the furnishings. The library does not assist in setup.
Event hosts are responsible for cleanup of any food items or materials they bring into the space. Please leave no trace.
The space can be booked by groups during library open hours.
Whenever the room is not booked, it is open for general use.
Exceptions will be extremely limited and made on a case-by-case basis.
Scheduled library-sponsored events will take precedence over other campus events.
The room is reserved for Serie Center use from 10:30 a.m. – 1:30 p.m. on Mondays and Fridays during the academic year.
Reservations:
Reservations will be confirmed as soon as possible, usually within 24-48 hours.
The library office must receive reservation requests at least 14 days in advance of the event. Requests for events with fewer than 14 days notice will be approved on a case-by-case basis.
A sign that lists reserved events will be posted next to the door of the SPACE.
Equipment and Supplies:
The Barbara B Davis SPACE has a mobile SMARTboard for projection. Everyone is welcome to plug into the SMARTboard monitor. A manual is provided on the SMARTboard's stand for those who would like to use its additional technology options.
Requests for equipment beyond what is installed and routinely available in the Barbara B Davis SPACE should be directed to ITS Tech Checkout.
The Barbara B Davis SPACE contains a mobile whiteboard. Please feel free to use it. Dry erase marker kits are available for checkout at the service desk. We are not able to provide easels, easel pads, pens and pencils, name tags, or other presentation aids. Please plan to bring your own supplies.
Support:
No technology or library support staff are assigned to the room during events.
Any scheduled Barbara B Davis SPACE event that is not a private or closed event must be publicized on the campus events calendar by its sponsor.