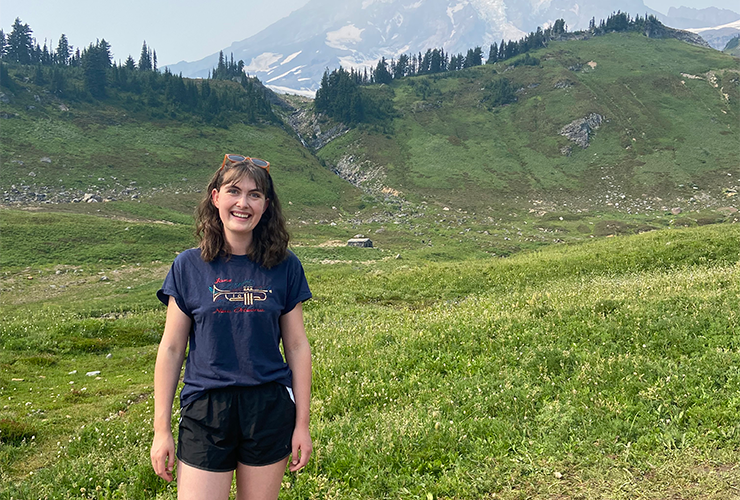 Shelby Kruger
Hometown: Salem, OR
Years in the Library: 4
Book Selection:
Gabriel by George Sand
"I read this play for the first time in a French course my sophomore year. It's a work that I keep returning to and thinking about, and it's become one of my favorite plays ever. It's a beautiful piece of ethereal, queer, feminist writing. It introduced me to George Sand, an author I've come to love and who I'm working with for my honors thesis. It really makes you think of how we perform for the people around us and for even ourselves. I definitely recommend it!"
What have you enjoyed about working in the library?
"I've loved my experience working in the library so much. It's already my favorite place to study and hang out with friends, and I've really enjoyed also getting to work behind the desk and help people with all of their different projects and research. I love having a deeper knowledge about all the great resources the library provides. I've become the person in my friend group everyone goes to when they have a library question which is really fun. I also really value all the friendships and relationships I've made with the other student workers and supervisors. One of my favorite things is the conversations we all have behind the desk. Whether it's about politics, pop culture, a school event, or something else, everyone always has fun things to share and discuss together, and I've also loved that aspect of learning and community that came from working at the library."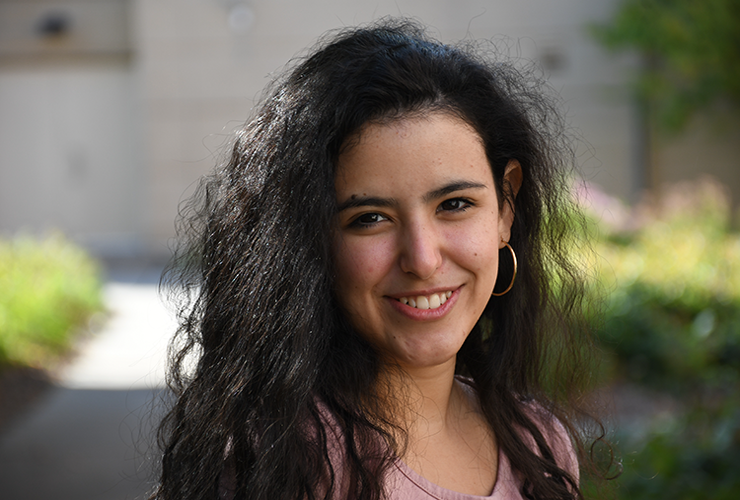 Amelia Medina Blanco
Hometown: Havana, Cuba
Years in the Library: 3
Book Selection:
Daisy Jones & The Six by Taylor Jenkins Reid
"I loved the way the author used an oral history format to tell the story of this fictional 70s rock n' roll band. The depth, strength, and complexity of the female characters in this book also really spoke to me. This book's portrayal of addiction was also very touching, as it vividly captured its darkness and devastating nature."
What have you enjoyed about working in the library?
"I loved working with the team at the Library Office!"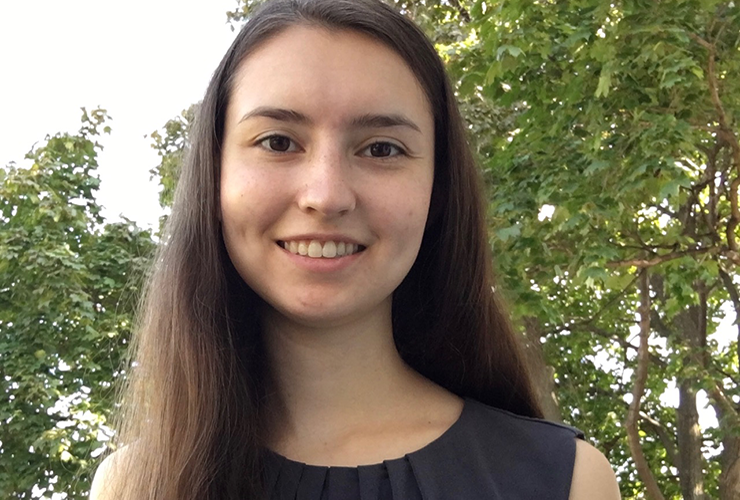 Miranda Moulis
Hometown: Madison, WI
Years in the Library: 4
Book Selection:
Six of Crows by Leigh Bardugo
"I really enjoy fantasy books, and this is one of my favorites. The book is about six outcasts and an impossible heist. I read it after watching the tv show, Shadow and Bone, which is based in the same world."
What have you enjoyed about working in the library?
"I have enjoyed getting to know my co-workers."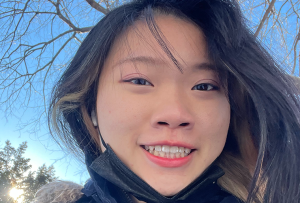 Jacqueline Ong
Hometown: Penang, Malaysia
Years in the Library: 4
Book Selection:
Diary of a Wimpy Kid by Jeff Kinney
"It's funny. I think you can never be too old to read it!"
What have you enjoyed about working in the library?
"Seeing people from around campus and exploring strange websites with my managers during the midnight shifts, like the Joan Ocean Dolphin Connection site."
Cecilia Soto-Licea
Hometown: Dallas, TX
Years in the Library: 4
Book Selection:
The Legend of the Bluebonnet by Tomie dePaola
"I think this is the first book I ever owned as a child and maybe the first book I picked up and read out of genuine interest. I still have it back home and read it from time to time. I think it's a beautiful story and it reminds me of my childhood in Texas."
What have you enjoyed about working in the library?
"I have really loved interacting with so many different people. People from all over campus will, at some point or another, always need something provided by the library and it's always so fun to be the one to help!"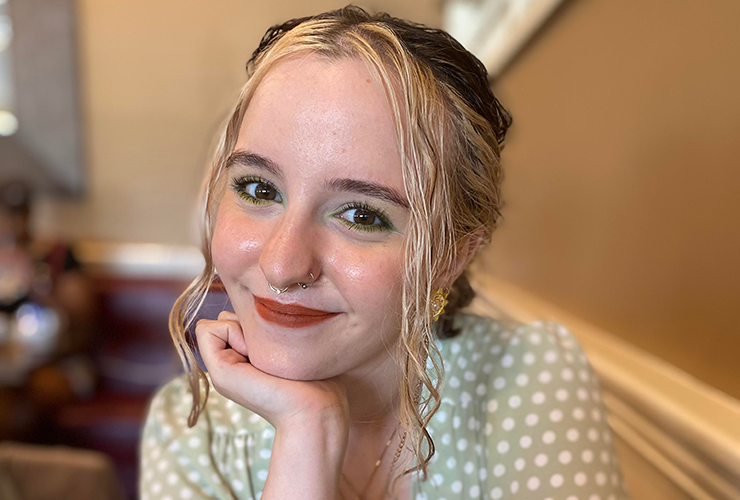 Serena Touqan
Hometown: Dearborn Heights MI
Years in the Library: 4
Book Selection:
Flowers for Algernon by Daniel Keyes
"I was first recommended this book by my high school honors chemistry teacher. I could go on forever about it – but I think it taught me a lot about what it means to find meaning in life and in yourself, that intelligence and accomplishments – especially academic ones – are never a substitute for human connection, compassion, and love. I lived so much of my life stressed about proving myself as worthy, that I can do things just as well as the legacy students or the rich students or the white students. I often felt consumed by imposter syndrome on this campus, but I would always turn back to this book because it never failed to remind me that the only metric by which I should ever measure myself is the fierceness with which I love. Academia tries to brainwash us into thinking that Reason must be above all, but I have learned that my emotions, my compassion, even my fears and anxieties, are an asset and not a distraction or a drawback. I do not need to be the perfect student or the most intelligent person in the room to lead a meaningful life – instead I just need to look around me, to let myself love and be loved, to be grateful for the blessings I have been given and try my best to share them with others."
What have you enjoyed about working in the library?
"The library has consistently served as a refuge for me throughout my years at Macalester– when classes were rough or my social life was turbulent I could always rely on this space and the people here to either support or simply distract me. I have made meaningful connections with all the staff members and my fellow aides/managers, whether I'm discussing the new Animal Crossing update with Madisen, looking at the really strange mushroom in Alee's yard, or bantering with LaReina (Hey Bestie!). Even when I do not feel like I have a space at Macalester I was always assured I have a space here at the library. I'm endlessly grateful, and I will miss this so so dearly."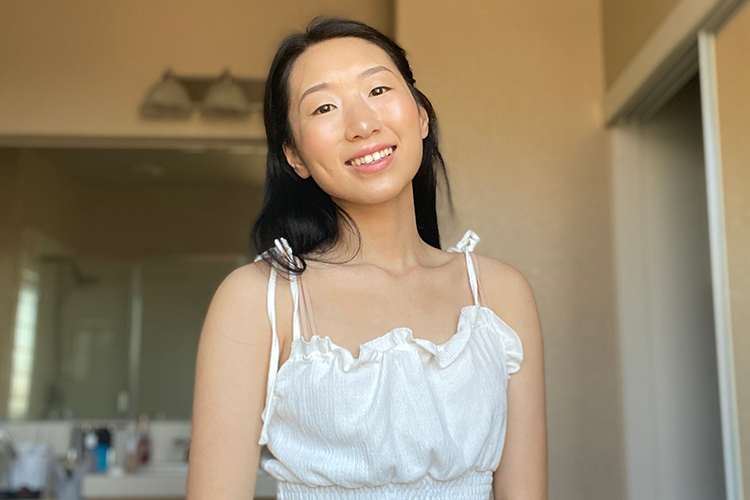 Pa Houa Xiong
Hometown: Marysville, CA
Years in the Library: 4
Book Selection:
Jouanah, a Hmong Cinderella by Jewell Reinhard Coburn, Tzexa Cherta Lee
"This was the very first time I saw myself represented in literature. I remember picking it up in my elementary school library and being in awe that Hmong people and culture could exist in literature."
What have you enjoyed about working in the library?
"The community. Everyone is so friendly, warm, and willing to lend a hand. The creativity and collaboration between library departments is phenomenal."