Support Hours: Monday – Thursday: 2:00-10:00 pm,
Friday – Saturday: 2:00-6:00 pm, and Sunday: 6:00-10:00 pm
The Idea Lab is a community-oriented workspace designed to encourage collaboration and to provide tools and support needed to realize ideas and creative inspiration. If you know how to — or want to learn how to – take a glimmer of an idea and bring it to life, then you are in the right place, in the heart of the library, in the heart of campus.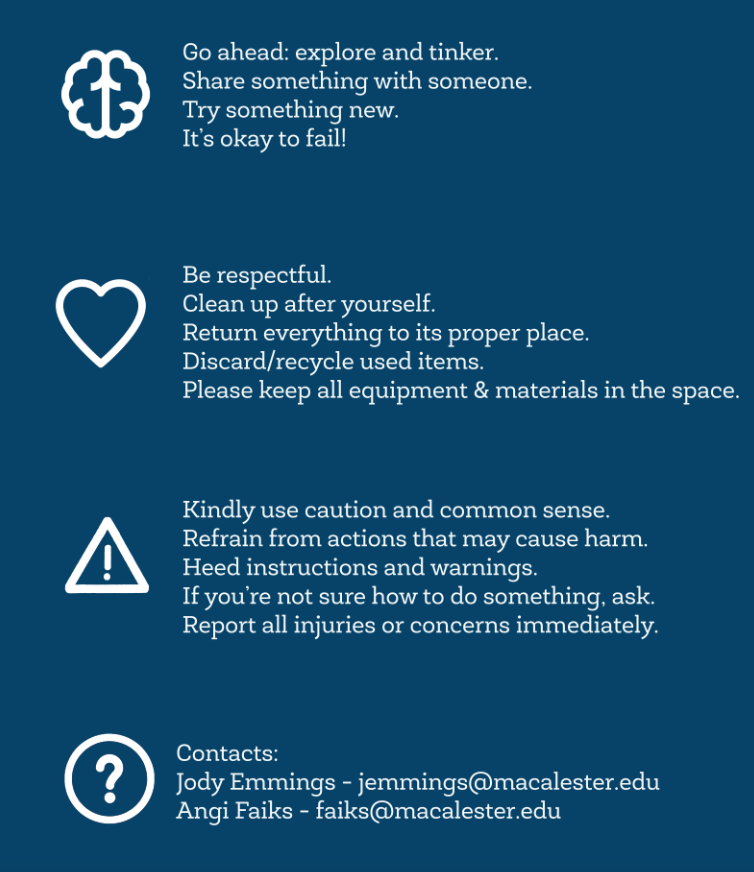 Come tinker with 3D printers, vinyl cutters, iMacs loaded with design software, wacom tablets, sewing machines, spinning wheels, art supplies and a wealth of salvaged, recycled resources along with all the other resources of the library, all for use in your projects, inventions, creations, and explorations. Use the workspace to develop your own class or personal projects, meet new people, create something beautiful, or just de-stress.
The Idea Lab will always be a work in progress. Together with our Macalester community, we will slowly develop the space, the programming, and the support. We will continually learn and adjust. We need your input and ideas. Please share them in person, in the space, or in our online form.
The best way to start a project is to stop by during our support hours and talk to one of our student staff. Faculty and staff can also contact Jody Emmings or Angi Faiks with any questions.