Open Education Week 2020: Learn, Participate, Share
March 1, 2020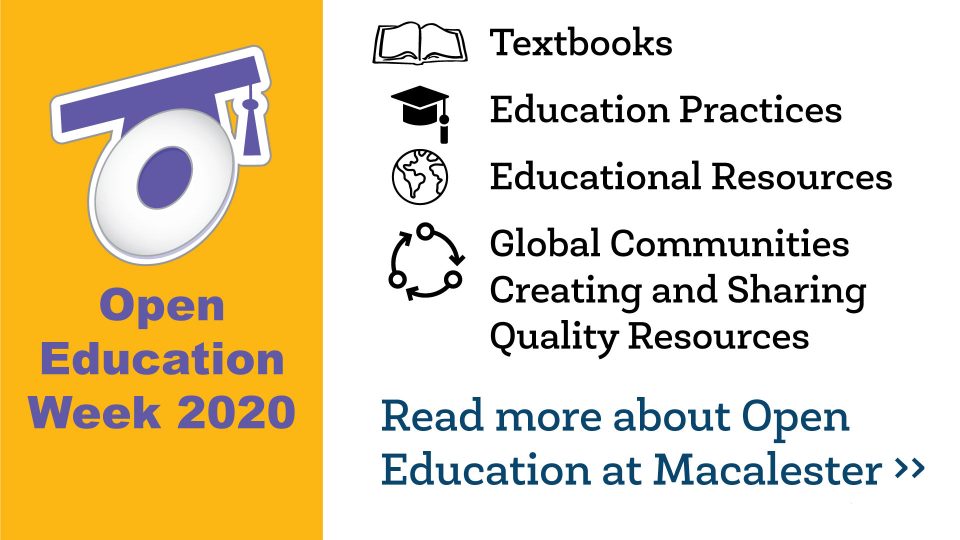 This week, we celebrate the world of Open Education with Open Ed Week 2020!
Check the library website throughout the week, for more examples of OER at Mac and globally!
---
What are Open Educational Resources (OER)?
OER take many forms, you may have heard of "open textbooks." Generally speaking, OER materials share the following characteristics:
openly available for low or no cost (digital or print)
licensed in a way that allows others to easily customize, reuse, or redistribute the materials.
Learn more, below:
Global Impact
Student Impact
Faculty and Course Impact
Mac Impact
Participate
Global Impact
On a global scale, NGOs, such as UNESCO, are supporting OER as shareable, quality learning resources that provide equitable access to education for students around the world.
Student Impact
Benefits for students include:
Accessing learning materials from day one of class
Tapping into varied learning styles through multimodal options, screen reader ready materials, and choice of print/digital format
Reducing college costs from textbooks
Faculty and Course Impact
Faculty enjoy the freedom to customize an existing text or to create new learning materials for their unique course. OER can help fill gaps in the availability of inclusive instructional materials for learners from diverse backgrounds. OER creators believe in equitable access, and many build their resource or text on a foundation of accessibility functionality and universal design. Instructors also use OER to enable open educational practices that facilitate student learning in new ways. The DeWitt Wallace Library actively supports faculty in finding, revising, and creating OER.
LEARN MORE in the Macalester OER Toolkit
Mac Impact –Share YOUR experience!
Mac OER Share and Ask form –Share your Mac student or faculty story!
Do you have a Mac experience to share of OER or OER enabled educational practices?
What are your thoughts, questions, and ideas?
Participate Virtually:
A variety of online learning and participation opportunities can be found at openeducationweek.org (organized by date, Monday-Friday) These are just a few to get excited about:
March 2:
Honouring Indigenous Writers Wikipedia Edit-a-thon
Register to participate in this Wikipedia editing event, honoring Indigenous Writers at the Wikipedia Meetup page, hosted by the University of British Columbia: March 2nd, 3pm-6pm (CST)
Beyond Free: Supporting Social Justice through Open Educational Practices with Dr. Rajiv Jhangiani
An interactive, online workshop for exploring the impact of open educational practices on access, affordability, and innovation in higher education. Register March 2, 3pm (CST)
Open Ed Week Kickoff: Getting Started with OER
Are you new to open educational resources and want to learn more? Learn more: Why high textbook costs are a problem for students – How OER differ from free resources – How Creative Commons licenses work – Where to find OER – What resources are available for customizing OER-How to incorporate open pedagogy into a class. March 2, 12pm. Join the session: https://linnbenton.zoom.us/j/864069382
March 3:
Crowdsource your ideas, Twitter chat: #OERWishList
Please share, Which OER do you need? Which OER would you like to see updated or adapted? Which disciplines are underserved by OER? Your thoughts, no expertise needed! Library Publishing Coalition (@LibPubCoalition), Rebus Community (@RebusCommunity), and eCampusOntario (@eCampusOntario) are hosting the Twitter chat. They will be compiling the list and sharing out through the Rebus Community. On Tuesday, March 3 at 1:30pm (CST)
Open Pedagogy Through Collaboration presented by Open Oregon
Whether your goal is replacing a traditional publisher textbook, having students publish coursework for a broad audience, or asking students to collaborate on the design of a course, this discussion will encourage you to find productive partners and start planning ideas for greater student agency immediately: March 3, 2pm (CST)
March 4:
Open Instructional Design and Assessments
Featuring staff from the Open Education for a Better World project, will review the following topics: organization of a learning experience; learning outcomes, learner levels, and accessibility; active learning in self-directed and distance contexts; and turning resources and assessments into a course or textbook. The webinar will be broadcast live at the following Zoom link: https://cambriancollege.zoom.us/j/836554271 and made available on the Open Education for a Better World website after the event. March 4, 9am (CST)

March 5:
OER and Culturally Relevant Pedagogy
This discussion and short design activity session will focus on starting to add culturally relevant pedagogy components into your course. March 5, 1pm (CST). Join webinar: http://bit.ly/oerweekthu
Adventures in OER and Open Pedagogy
Two MSU Denver professors will share their adventures in using OER and broadening their pedagogical strategies in their courses. One using hypothesis to engage students in Public Relations Research and Planning. Also, Biochemistry II, an iteratively developed course based undergraduate research experience.
March 5, 3:30pm (CST) Link to Live Webinar: https://csuglobal.zoom.us/j/699754652
March 6
Metaliteracy: Open Pedagogy and Wikipedia
Two SUNY faculty members and a representative from Wiki Edu will discuss the use of Wikipedia editing and writing as an effective open pedagogical resource that supports metaliteracy and the acquisition of subject knowledge. March 6, 11am. Join Webinar: https://zoom.us/j/853813370