Two NEW Mod 5 Courses!
February 25, 2021
Macalester plays host to the National Student Association Congress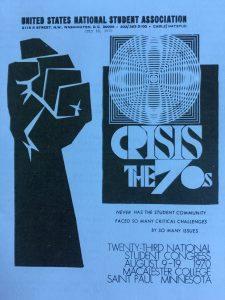 From August 9-19, 1970, Macalester was host campus for the National Student Association (NSA) annual congress. The theme was "Crisis of the 70's," and spaces were used all over campus with the likes of Ramsey Clark, Marian Wright Edelman, Betty Friedan, and many other social justice, civil rights, and labor rights luminaries on campus as the 1000 or so attendees wrestled with the war in Vietnam, social inequity, women's liberation, ecological justice, police reform, etc.
This course will engage research methods using primary and secondary sources to develop a clearer picture for future scholars of what went on at the conference.  What questions were attendees (including some Mac Students) wrestling with?  How have those issues changed or not changed in 50 years?  How did the media cover the conference? How did film screenings and musical acts play into the overall events and themes? Final projects will collectively tell the story of the conference in a digital timeline format.
Instructor: Dave Collins
9:30-10:45 am CDT, MTWRF
Progressive Actions in Contemporary Cultures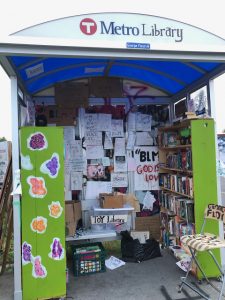 There is a human need to share collective information. One manifestation of this is the creation of libraries as collections of knowledge both as a support of dominant culture and as an alternative to it. Using discourse theory as it relates to interactions between dominant and marginalized groups within culture, this course will explore the tension between "mainstream" and "dissident" ideas, focusing on Enlightenment-era United States beginning in the 19th century through the present.
Using examples of alternative libraries and "infoshops" such as 19th century Black literary society libraries, prison libraries, civil rights freedom libraries, LGBTQ libraries, and protest libraries like the George Floyd Square bus stop library and the Occupy libraries, we will examine the socio-historical contexts in which those libraries developed through articles from mainstream and alternative press sources, primary sources, zines and other graphic works, documentaries, podcasts, and guest visits. What were the problems these libraries tried to address? How successful were they? What were the end results? We will also discuss the problems with creating a library at all, often privileging print and media culture over other forms of knowledge creation and dissemination such as oral traditions and embodied knowledge. Final projects will allow students to identify a community need to address and envision their own alternative library or knowledge structure.
Instructor: Ginny Moran
8-9:15 am CDT, MTWRF