Electronic Resources
WorldCat Discovery is your best place to get started, and when you're ready, go to our Research Guides or A-Z list for more targeted sources, including databases that provide access to streaming audio and videos. Find a list of newly purchased ebooks on the New Books Guide
For more details on ebooks, streaming media, troubleshooting access issues, and more, visit the Electronic Resources & Remote Learning Guide.
Materials in the Library
Library Collections
Learn more about our library collections.
Textbooks and Other Course Reserves Items
In collaboration with Macalester College Student Government (MCSG) the library maintains a textbook reserve program which offers limited copies of select textbooks for short term checkout. All textbooks are chosen and purchased by MCSG's Academic Affairs committee with additional titles purchased twice per year. This highly popular program is just one of the ways students and the library are working to off-set the high cost of textbooks. See search box above to check what books are on reserve for your courses.
For more information, visit the MCSG Academic Affairs Committee's Textbook Reserve Program page.
College Archives
The College Archives and Special Collections holds archival collections that document our institution and its students, staff, and faculty, as well as published and manuscript works spanning the 9th century to the present that are rare, valuable, unique, or that require special handling. The College Archives will be closed during the campus quiet period and will be available by appointment to current students, staff, and faculty when the library building opens. Macalester College Archives FAQ
Non-Book/Media Items
We also have items to check out that you may not expect. Ask for these at the Library Service Desk:
And these!
TechCheckout
Equipment and tech items have moved to the Digital Resource Center, in the Lower Level of the Library. Browse what is available and reserve items: TechCheckout.
Browse the library shelves from home!
Our books are arranged on their shelves by subject area. Follow the instructions below, or watch this video to learn how to browse the library shelves online.
Once you identify an item in WorldCat Discovery that has a call number (these are physical books, DVDs, etc)
Click on the title of the item in your search results
Look for "Browse the Shelf" below the book cover image
Click on this text to expand the shelf browsing area
Click on the right or left arrows to see which books are adjacent to the original book that you chose
Select a title from this browsing list in order to: see more information, request the print book/physical DVD, or to read online if it is also available as an ebook.
Planning to pick up the item later? Instructions for requesting the item through WorldCat for pick up at the library service desk.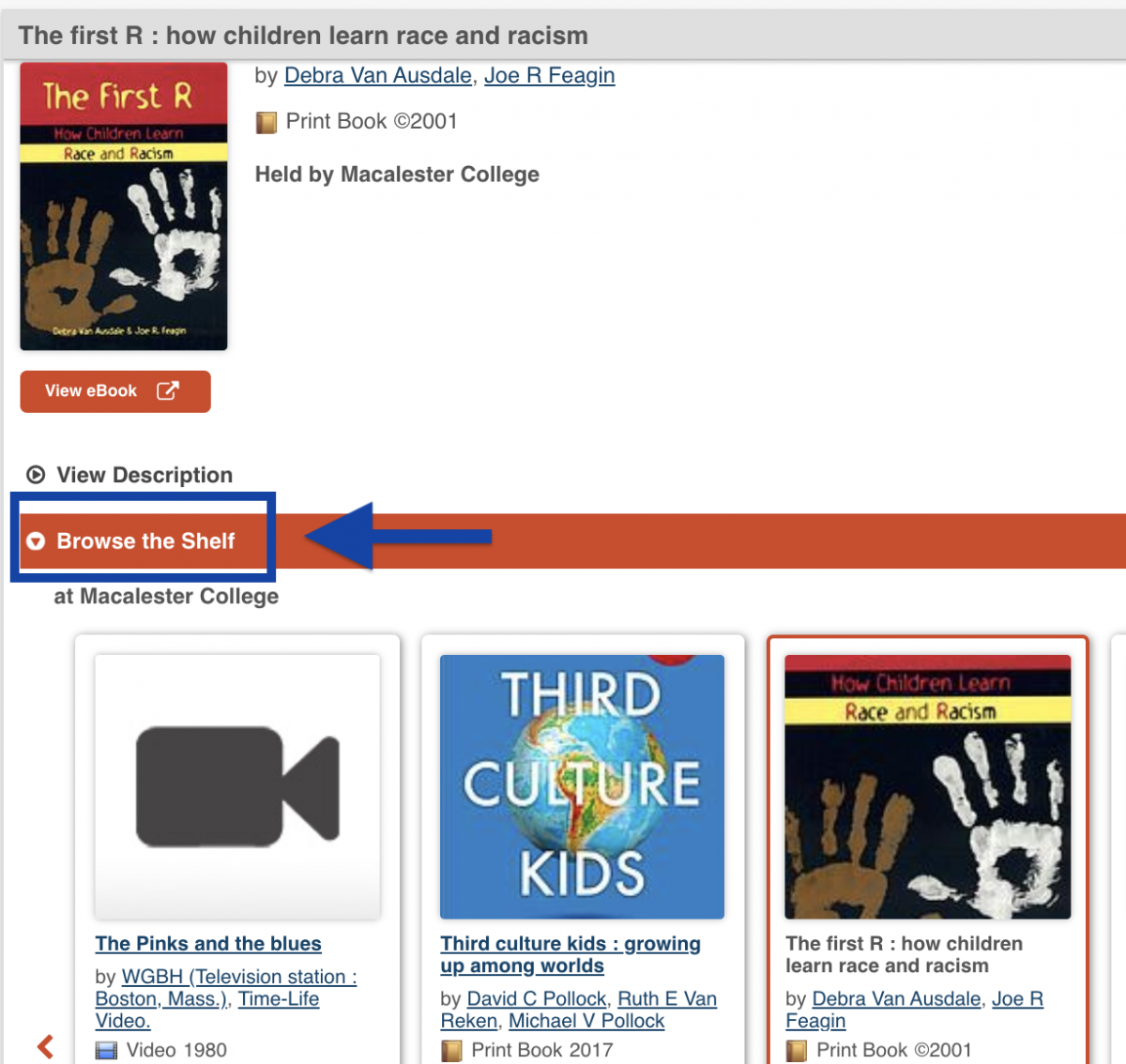 Books and Media from other Libraries (Interlibrary Loan)
Interlibrary Loan (ILL) is a service that we participate in to help you get books, book chapters, dissertations, articles, and DVDs from other libraries–when you can't get it from our library. Submit an ILL request, and we do all of the work to figure out what library can lend it. 
Physical ILL request items such as books and DVDs can be picked up, after you receive notification that the item is ready.
Requests types are split up by the format that the item is in. Delivery method is also dependent on format:
Journal articles:

These arrive

electronically

Providing an

ISSN of the journal or a DOI of the article

will provide the fastest service. The "Request Item through Interlibrary Loan" button in WorldCat Discovery usually auto-fills this for you!

Journal articles that are in print in our library:

Faculty and staff: We will scan the article and send it to you

electronically.

 

Fill out an ILL journal article request with as much information as you can about the article, and use the note field to add that it is in print in the library.

Books/eBooks from other libraries: 

Due to copyright and ebook licensing restrictions, we are usually limited to requesting and borrowing

print books

from other libraries. eBook lending is not a common option.

Print items are only available for

on-campus pickup

. If you are not on or near campus, not to worry, we can help you find solutions.

Ask Us!

Chapters from books in other libraries:

These will arrive

electronically

If you are interested in just a chapter or two of a book from another library, submit a book chapter request–

providing an ISBN and/or OCLC number

will provide the fastest service (find these under the "View Description" button if you have the book pulled up in WorldCat Discovery).

Anything else that you can't figure out how to access:

If you have questions about interlibrary loan or anything that you can't figure out how to access–

Ask Us!

We are here to help you find research resources.
Students Living Away from Campus
Not living on or near campus? Not to worry! We are ready to  help you get the books and library resources that you need:
Digital Commons downloads with Document Type: Honors Project On-Campus Access Only. If you are off campus, you will need to use the campus Virtual Private Network (VPN) in order to download these. Contact scholarpub@macalester.edu for questions about Honors Projects in Digital Commons.
(Instructions for setting up VPN: Mac or Windows; Need help? helpdesk@macalester.edu)