Learn about…
GET Funds
GET Funds is a web service that allows faculty, staff, and students to view and manage their own MacPass account. On GET Funds, a card holder can:
View account balances
View spending history
Deposit money to the MacPass card using a credit or debit card
Turn off a lost card
Reactivate a lost card once it is found
GET Funds is always on. When a student discovers they are out of money at 11:00 p.m., they can still deposit funds, via GET Funds using a credit card (subject to $1 convenience fee).
Accessing GET
GET is now part of Macalester's "single sign-on environment," meaning it uses the same account as all of your other Macalester sites.
For Access:
GET Mobile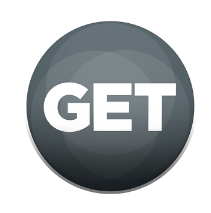 Download GET Mobile for iOS or Android devices. Log in using your Macalester GET username and password.
GET My Card
GET Mobile now includes My Card, a virtual card with a barcode right on the screen. It allows you to scan your phone for payment at participating Food Service locations. When it's time to pay, open the app and scan the secure barcode.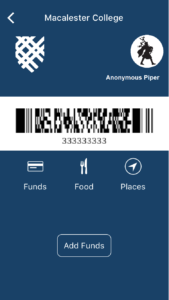 Getting deposits from parents, guardians, or other relatives
The card holder must share their MacPass number with the parent, guardian, or relative, and direct them to the Deposit Into a Student's Account page.
There is a $1 convenience fee for each deposit via credit/debit card to GET Funds.