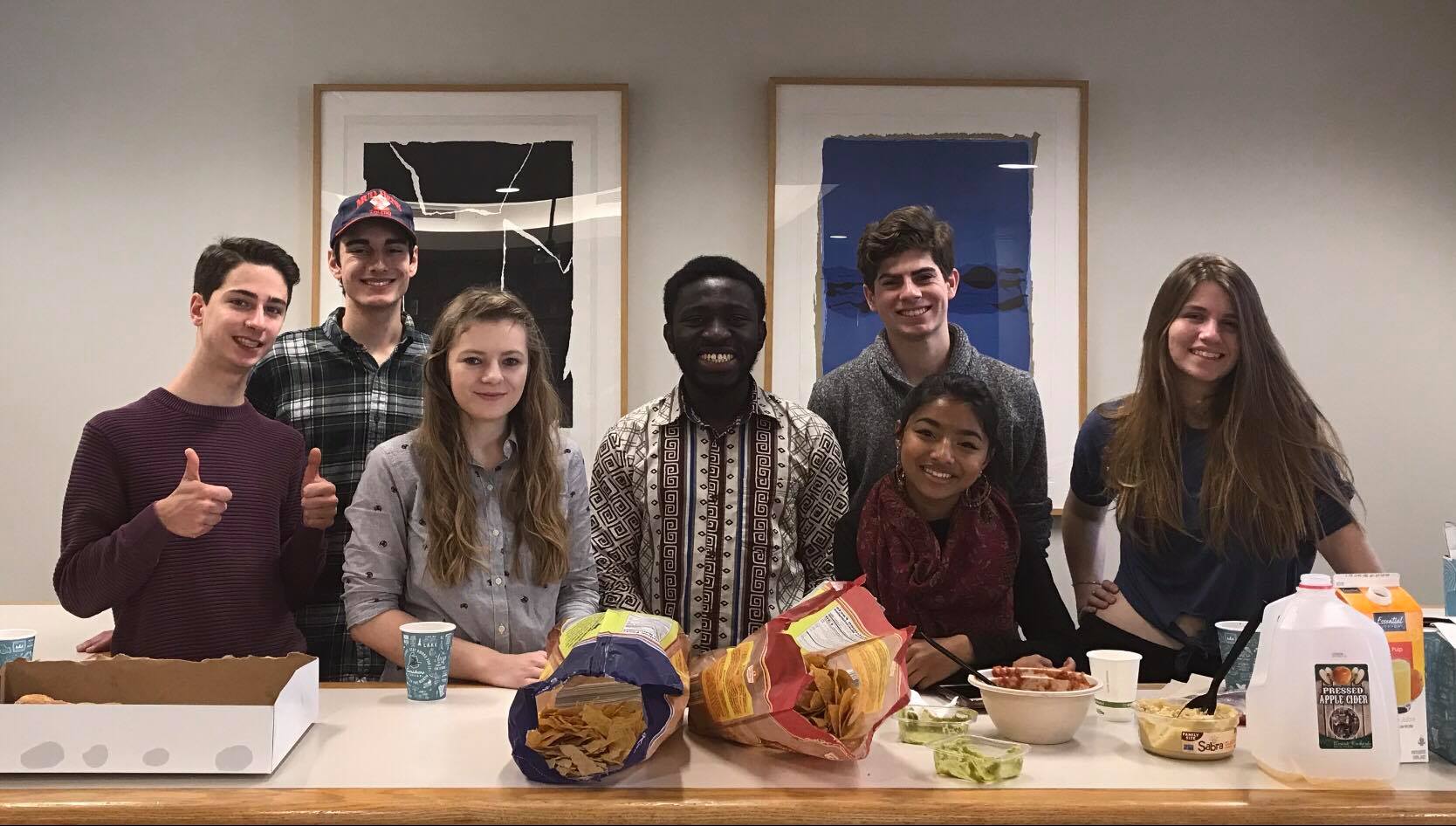 The Academic Affairs Committee is dedicated to any and all things related to your academic career here at Mac! We are here to represent you in areas relating to policy, practices, and proposals of an academic nature. We also address areas relating to admissions and financial aid, academic buildings and facilities, the academic advising system, and tenure/personnel policies of the faculty.
2018-19 Members: Kofi Ofosu '19 (Chair), Garrett Schoonover '19,  Ana Nicola Pooley '19, Karinna Gerhardt '21, Swopnil Shrestha '21, Elliot Wareham '21, Matthew Glover '22
Meeting Time/Location: Every Monday 6 – 7PM, CC 204
AAC Chair Office Hours: Wednesdays 9-11AM, MCSG Office, Fridays 9-11AM, MCSG Office
Questions? Suggestions? Just want to talk? Email us at aac@macalester.edu
The AAC shall represent the student community in the following areas:
Curriculum and academic policy questions
Relations with the faculty, including tenure, personnel policies, and faculty awards
Academic support services, such as the advising system and library services
Admission and financial aid policies
Course and faculty evaluation process
Study abroad/away policy
Student academic life
The 2015-2016 Academic Affairs Committee has identified the goals below as strategic avenues to serve the student body. We believe that by tackling these issues, the student body as a whole can benefit while enriching their academic experience at Mac.
If you have any ideas, requests, comments or want to join us in any of these projects, please don't hesitate to contact us.
Improve syllabi and course information availability online
Expand academic building hours/work on student study spaces
Continue conversation on extending instructional days/study days
Course and tenure evaluations
Reconcile library/campus center laptop policies
Organize and coordinate the alumni fair
AAC Annual Events: Alumni Fair, Educator of the Year, Coffee and Donuts
Quick Links
Find out more about the Textbook Reserve Program, see a list of textbooks on reserve, or request that a textbook be purchased as part of the program.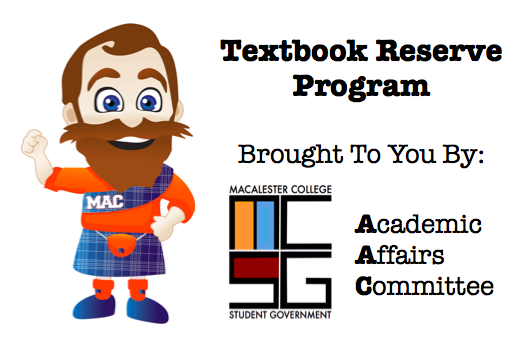 Visit the Macalester Registrar's website for academic calendars, class schedules, and more. 
Make sure you're on track to meet Macalester's graduation requirements.
Not sure what counts for certain requirements? Double check the list of current Courses that Satisfy General Education Requirements
Join over one-third of current Mac students who use the MAX Center, the perfect place to turn for guidance and advice when it comes to writing papers, getting chem or math help for tricky classes, or general study help.
Access a helpful link or resource from previous classes via the Moodle Archives.
Double-check other ACTC school calendars and find other resources to help you in your off-campus class on the ACTC website.
AAC Around Campus
Academic related Campus Committees whose student reps work together with the AAC include:
Student Learning Committee – Noah Nieting, Nora Wu
Classrooms and Learning Facilities Advisory Committee – Rachel Wong
IGC Student Council – Chris Pieper