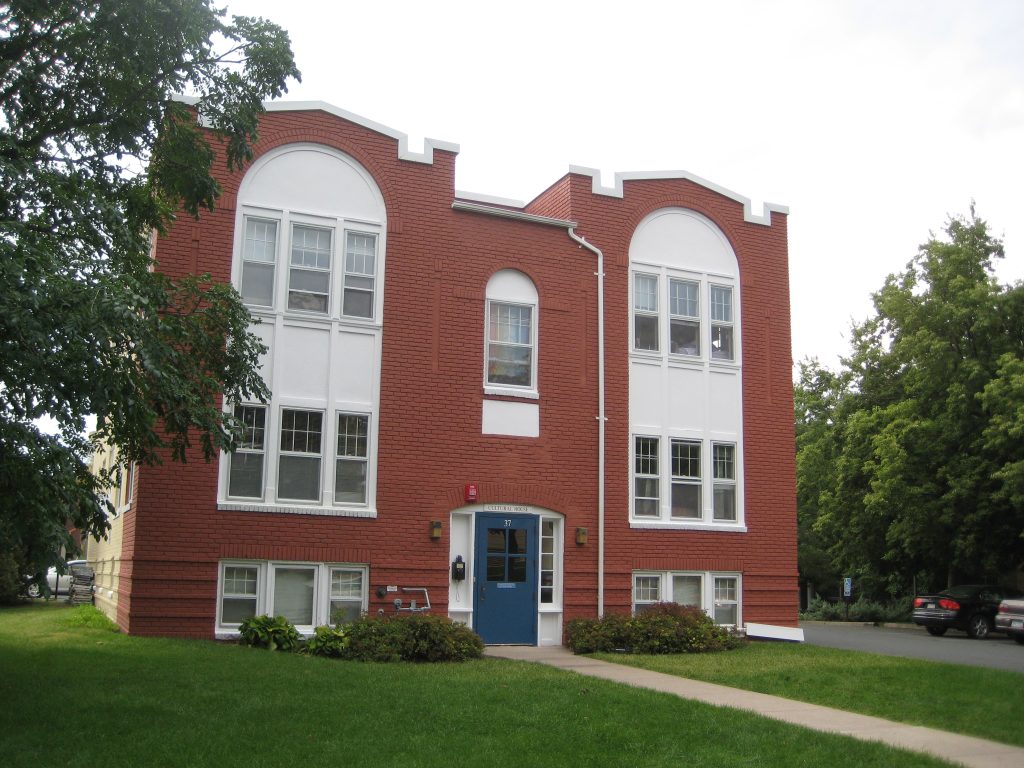 The Cultural House
Located at 37 Macalester Street, this is a safe space for students of color and indigenous students who are interested in learning from and contributing to a multicultural environment. The C-House strives to be a symbol of connection for people of color and indigenous people at Macalester. Although the C-House is organized around the dismantling of racism, there is careful attention paid to the intersection of multiple identities, including gender, class, sexual orientation, national origin, age, ability, and religion. Programming and many cultural organizations who utilize the C-House are structured in a diasporic manner that recognizes that race may have variant meanings in an international context.
The Cultural House Signature Programs
*Due to COVID, we will conduct In The Kitchen With and Poetry Slam virtually via Zoom.
Cultural House Block Party
The C-House Block Party serves as a Fall kick-off to the programmatic year for the Cultural House. It is an annual event that formally welcomes the Macalester community. Food, fun, and water games celebrate the new academic year.
In the Kitchen With…
"In the Kitchen With…" is a program that brings students, staff and faculty together over food and conversation to build community and foster meaningful relationships. This program is hosted by a cultural student organization.
2021-2022 In The Kitchen With:
Monday, November 22, 2021 @ 6pm-7pm – Virtual via Zoom, HOST: Chinese Cultural Club
Monday, March 21 @ 6pm-7pm – Virtual via Zoom, HOST: Latinx Student Union
Monday, April 18 @ 6pm-7pm – Virtual via Zoom, HOST: Russian Department
Poetry Slam
This annual tradition is a spoken word competition where students perform and the audience is the judge! The Poetry Slam is a time for the Macalester community to celebrate and reflect on the significance of oral traditions in communities of color and as means for political action in all communities.
Reservations
Due to COVID-19, we have updated guidelines for reservations. All reservations must be requested 2 (two) weeks prior to the event date to be reviewed and approved by Isabel Nelson and the Cultural Staff Team before using the space.
Reservations cannot be requested during the same dates as the Cultural House Signature Programs (see above).
If you have not received a confirmation from Isabel Nelson or the Cultural Staff Team, please do not enter the Cultural House.
Please email Isabel Nelson for reservation requests: nelsoni@macalester.edu
Current COVID-19 safety expectations/guidelines:
Everyone, including residents and guests, are expected to stay masked at all times in the public spaces and abide by the institution's Mac Stays Safer 2.0 Shared Community Commitment. Exceptions to remove masks are when residents and guests are eating (continuing to social distance at 6 ft apart) or in resident private rooms. As the academic year progresses and as we receive more guidelines from the Infectious Disease Task Force, our space capacity and expectations for the C-House may change.
COVID-19 public space maximum capacity:
Kitchen: 4 people, social distance at 6 ft
Kitchen Dining: 4 people, social distance at 6 ft
Dining Lounge: 2 people, social distance at 6 ft
Multipurpose Room: 6 people, social distance at 6ft
Basement Meeting Room: 6 people, social distance at 6ft
Schedule a C-House Tour
Come check us out! We offer 10 minute C-House Tours! As this is a space for creating a sense of belonging for BIPOC students, we give the following priority to the following groups when scheduling tours:
BIPOC students
Non-BIPOC students
BIPOC Staff/Faculty Employees
Non-BIPOC Staff/Faculty Employees
Please note that tours are not scheduled over the summer break.
Contact
For more information and questions about the Cultural House, contact Isabel Nelson, Dept of Multicultural Life Administrative Coordinator: nelsoni@macalester.edu.
*This webpage will be continuously updated as necessary.