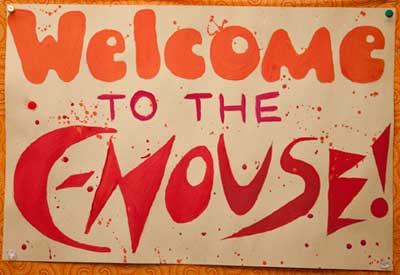 The Cultural House
Located at 37 Macalester Street, the C-House strives to be a symbol of connection for people of color at Macalester. Residents of the housework together and with campus partners to create a campus space that centers the experiences and celebrates the joys of indigenous students and students of color at Macalester. As the Cultural House serves as a space for residents and community members the Cultural House has cleanliness expectations that exceed those of the residence halls. Additionally, the Multipurpose Room and Kitchen serve as community spaces and are open to reservations.
Cultural House Application Process
Resident selection in the C-House is done differently than all the other housing options on campus. Residents will be selected by the current residents who are seniors or residents not planning to return to C-House, House Manager, and the Assistant Director of Student Success.
The Cultural House is open to sophomores, juniors, and seniors. While we give priority to indigenous students and students of color any student at Macalester is welcome to apply. Students who are planning to study away in either the fall or spring semester are also welcome to apply. The C-House has a large kitchen and lounge as well as in-house laundry. Students living in the C-House are not required to have a residence hall meal plan. There is space for 10 residents in five double rooms.
All Residents of C-House will meet the following community expectations.
Responsible for upholding all campus and residential policies

Assist in making the C-House Multipurpose Room and C-House Kitchen available to campus partners by meeting Cleanliness Expectations

Assist DML Staff in the planning of C-House programming offered in the fall and spring semesters. Program examples include Block Party, Poetry Slam, and Kickbacks for Prospective First-Years which are signature programs of the C-House.

Lead facilitated conversations at community meetings on issues related to identity, social justice, or those that center the experiences of indigenous students and students of color
Participate in C-House Community Outings as planned by the Resident Assistant and C-House Manager
The application process to live in the Cultural House for the 2022-23 academic year is CLOSED.