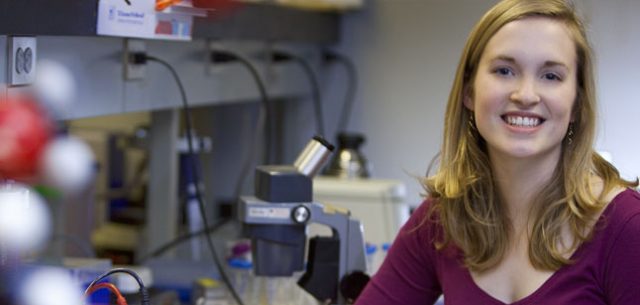 By Rebecca Delventhal
St. Louis, Missouri
Biology, Biochemistry Emphasis
After Mac: PhD, Yale University, Biological and Biomedical Sciences
The whole process of applying, visiting, and then deciding on a graduate school was challenging. But despite juggling applications and decisions about my future on top of schoolwork, I will always be glad I applied while still attending Macalester. Like many of my fellow students, I considered taking a year off, but I decided to apply during my senior year to take advantage of the wonderfully supportive environment here.
I received valuable advice from professors in multiple departments about possible graduate schools, as well as feedback on my personal statement and resume. I also visited the Career Development Center, where a staff member helped me construct a great resume.
After visiting the programs to which I was accepted, I felt characteristically indecisive. I talked to many people, including my advisor in biology, my parents (of course), as well as an outstanding psychology professor with whom I had developed a close relationship. While not in my specific field, this professor greatly helped in my decision-making process— a great benefit of the liberal arts environment. Having gotten to know me through a couple of psychology classes I had taken, she was instrumental in helping me think through the different factors involved in my decision.
My options included PhD programs at Johns Hopkins, Northwestern, Yale, the University of North Carolina–Chapel Hill, plus a year-long, paid research internship at the National Institutes of Health. I decided to attend Yale University's Biological and Biomedical Sciences (BBS) program for my PhD degree.
After I made my decision, all of my fellow students were incredibly enthusiastic and genuinely happy about my success. I was fairly low-key, only telling people my plans when they asked, but close friends and acquaintances were truly excited for me. While I was surprised by this reaction, I really shouldn't have been. One of the major factors in my decision to attend Macalester was how absolutely collaborative, not competitive, the student body is here. This environment of mutual support and connection I've experienced for the past four years has been crucial to my personal growth as well as my academic success.