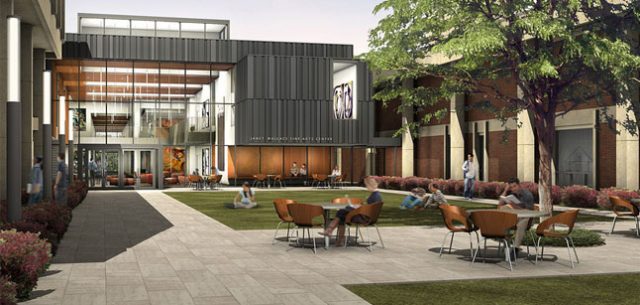 Unlike many students who double major, anthropology and music graduate Morgan Roe '09 found that studying two disciplines actually reduced her stress. "I could focus on creating something beautiful, which is extremely satisfying," she says of studying piano and singing in the choir. "The mental focus it took to prepare for my senior recital improved the quality of my writing and critical thinking in other subjects." Majoring in music also expanded Roe's worldview. "The arts curriculum reflects Macalester's commitment to multiculturalism and internationalism," she explains. "The arts are a universal way to connect with people who may not speak the same language."
Roe is not alone among Macalester students in valuing the fine arts. Each year, about 12 percent of students major or minor in fine arts subjects, from studio art to music to theater to dance. Still more benefit from a class or two (four fine arts credits are required for graduation), or participate in the college's growing number of extracurricular arts programs. About a quarter of Macalester students, for example, take a music course or take part in a music group each semester. And 200-plus students take an art history class each year. To meet the fine arts departments' needs, the college is embarking on an ambitious plan to expand and renovate the Janet Wallace Fine Arts Center. Once completed, the new complex will not only be a showcase for a first-rate fine arts education but also an enriching and stimulating focus of campus life.
Although many elements of a fine arts education—practicing scales on a piano or brushing paint onto a canvas—have remained the same for centuries, there have also been dramatic changes over the past 20 years in the ways students study and create art. Photography chemicals have given way to computer software. The yellowing slides that were once a mainstay of art history lectures have been replaced by multi-screen PowerPoint presentations. Theater departments create their sets using computer-aided design. Painting and sculpting classes are taught in the round instead of traditional classroom rows.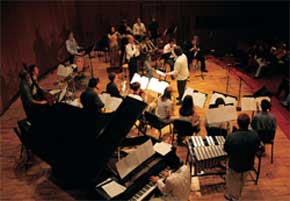 And today, increasing numbers of students consider themselves to be multimedia artists, including studio arts major Annie Henly '09, whose senior project was a performance that combined hand-carved marionettes with originally produced music. The growing drive to collaborate across disciplines is not facilitated by the college's 40-year-old fine arts complex, in which each discipline works in a distinct area. "In the new building a theater class may be right across the hall from a music class," says Music Department chair Mark Mazullo. "That never happens now."
At Macalester, fine arts course offerings have changed over the years. For example the Music Department in the past five years has started two new instrumental and choral ensembles and added courses that encompass everything from sitar lessons to Civil Rights–era folk music. "Multicultural traditions are entering the canon and the curriculum," says Mazullo. "Our hope is that any student can study any music tradition."
Unfortunately, the three separate buildings that make up the current fine arts center don't meet these 21st century needs. Built in 1964, the classrooms and rehearsal spaces are almost universally cramped, resulting in waiting lists for many classes that can't admit all the students who want to enroll. Those same classrooms aren't able to be fully wired for today's teaching and learning needs, either. Theater and music groups compete with one another for rehearsal and performance space, which in turn limits the college's opportunities to host performances that can reach out to the greater Twin Cities community. And there is little ability to control temperature and humidity levels in the buildings, which has resulted in cracked instruments that cost tens of thousands of dollars a year to repair and maintain.
Administrators, faculty, and students agree that the fine arts center is in need of an overhaul to improve teaching and learning and bring it up to the standards of the rest of the college. "Macalester is a world-class institution," says Provost Kathleen Murray. "The one academic facility on campus that isn't world class is the Janet Wallace Fine Arts Center." On both a symbolic and practical level, the current facility doesn't foster the kinds of dynamic, cross-disciplinary dialogue and collaboration that are vital to a contemporary learning community. "The buildings as they currently exist are freestanding structures that aren't interconnected," explains Murray. "They are closed to each other by a series of doors. There is a feeling that the buildings look in on themselves."
The envisioned expansion and renovation aims to turn that focus inside out. The new plan connects the buildings and opens them up to literally put the arts on display. Through a generous use of interior and exterior glass, passersby will be able to see what's happening inside. In addition to more spacious, technologically modern classrooms and studios, other improvements will include a larger, more inviting concert hall, new choral and instrumental rehearsal halls, and a new art gallery. Art history classes, which are currently held in a patched-together Theatre and Dance Department space, will have their own designated classrooms. Those same classrooms will in turn be available to the classics and archaeology programs, which need the same technology for viewing ancient texts and artifacts.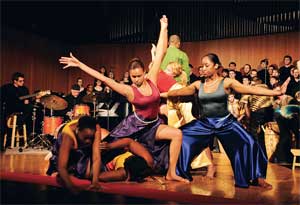 The renovation will center on creating a new common space with art gallery in the middle of the complex. Murray believes the new open space will create an engaging center for campus life that will facilitate important discussions. "The arts ask 'What is it about the world you want to speak about?' " says Dan Keyser, chair of the Theatre and Dance Department. "Understanding what you can do to an audience helps us understand how we can impact our community."
Not to mention connect with and understand new communities. The new complex will further Macalester's commitment to multiculturalism and internationalism. "The arts explore cultural and political difference," explains Mazullo. "You don't just study it, you live it out."
Building those connections with the college's neighborhood and beyond is a key Macalester goal; college leaders believe the new performance spaces will allow the college to bring more of the Twin Cities community to campus.
The plan is to build the complex in two phases. The first phase, which is part of the Step Forward campaign, will include the new arts commons and gallery, an overhaul of the music building (including a renovated concert hall and two new rehearsal halls), new art history classrooms and faculty offices. The current plan is to break ground in early 2011, but that schedule is dependent on successfully raising gifts and pledges of $18 million by Oct. 2010. The total cost of phase one is currently estimated at $34 million, $24 million of which will be privately raised. Macalester's Facilities department, located in the basement of the music building, will also be renovated as part of this project. The college will use institutional funds and debt to cover the Facilities work and the remainder of the project costs.
Detailed plans for the second phase, which will house the art and theatre and dance departments, are not yet complete. Although today's economic climate is not ideal for funding such an ambitious project, leaders feel strongly that this is the right time to act. Many colleges across the country are postponing similar construction projects. Completing the new fine arts center is an opportunity for Macalester to distinguish itself from its peers.
It's also a way to ensure that Macalester students are receiving the best education possible. "Right now the arts at Macalester are doing a lot with just okay facilities," says music major Ian Boswell '09. Boswell thinks that's a missed opportunity given all the benefits of studying fine arts. "A lot of people who don't do the fine arts think it's a mysterious talent, a magical gift that you either have or don't have," he says. "They don't realize the arts require the same kind of academic focus as economics or anthropology do. You integrate analyzing with the intuitive. I think it's so cool to develop your mind in that way because it makes you an extremely diverse thinker."
Boswell's experience illustrates why an exceptional liberal arts education demands fine arts training. "Many people attempt to justify the study of the arts based on the other skills it helps people to develop— the whole 'Mozart makes you smarter theory,' " says Murray. "That's fine—and true—but it's important for us to make sure our students develop an appreciation for the arts as arts. Artists see and understand the world in a particularly interconnected and integrated way, and all educated people need some experience with this. In the liberal arts setting, students actively and intentionally connect their work in the arts to the wider world of knowledge. Their other studies influence their art, and their art influences their other studies.""
Minneapolis-based Elizabeth Larsen writes for Mother Jones, Parenting, and other national magazines, and is a regular contributor to Macalester Today. This piece was originally published in Macalester Today Fall 2009 and was updated in August 2010 to reflect current project details.