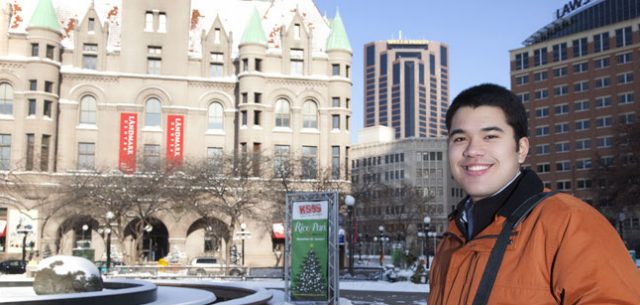 BY David TomporowSki '12
Perham, Minnesota
Geography
My college decision was tough. I tried to consider every factor: size, majors, student life, location, school rank, food, and many others. One of these made the decision for me—location. I was born and raised in a small town, so to me the Twin Cities were a foreign and exciting landscape, vibrant and full of opportunities. Macalester is one of the few schools of its size and type located in an urban area.
One of the reasons I was drawn to Macalester in the first place is the same reason so many others are: its emphasis on internationalism. I've taken courses in both international studies and political science and really enjoyed them, but my interest in cities also led me to geography and urban studies.
Macalester is one of the few schools of its size and type located in an urban area.
My first-year course, Introduction to Urban Studies, required us to go to six specific sites in St. Paul and "read" the urban landscape—observe the built environment to determine its designers, inhabitants, and origin in history. Human Geography of Global Issues had us go to three ethnic markets along a vibrant avenue near campus, where we observed the goods sold and interviewed the proprietors. In Urban Geography, I've learned about the history of urbanization, the political geography of cities, and the urban planning process, all made more real by the use of the Twin Cities as our classroom.
I would never have had these opportunities had I gone to a liberal arts school in a rural area or small town. And an urban location doesn't just benefit geography majors. Every discipline, whether it's visiting the Minneapolis Institute of Arts for anthropology, seeing a play at the Ordway for theatre and dance, or interning at the State Capitol for political science, benefits from Macalester's location.