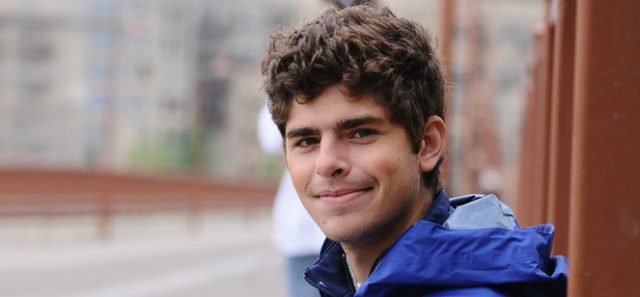 New York City
English
After Mac: Teaching English in Santiago de Chile and writing for an English language Chilean media group called "I Love Chile."
I'm not really sure how I ended up in Minnesota, it all happened so fast.
One minute I was stressing out over college applications, and the next I had signed up for a four-year excursion in a part of the country that I knew next to nothing about. The Twin Cities were pretty much a mystery to me, but coming from New York, I figured that any city would be better than going to school in the middle of nowhere.
Still, my expectations were low. I was banking on Macalester to provide all the intellectual and cultural stimulation that I needed, but quickly realized that I would have no trouble finding what I was looking for outside campus boundaries. The Twin Cities offer all the opportunities you would expect from a major metropolitan area. Looking for good music? Head down to First Avenue, the legendary Minneapolis concert venue where you can get inches away from your favorite bands. Want to catch a ballgame? The Twins dole out student night tickets at ridiculously low prices. Brushing up on contemporary art? The Walker Art Center in Minneapolis is one of the preeminent modern art museums in the country and features a world famous sculpture garden.
I discovered…a diverse urban landscape with its own unique feel, offering endless possibilities for arts, education and entertainment.
Good food is everywhere and comes in all varieties, filtering out of various ethnic neighborhoods dotting the Twin Cities landscape. Almost any type of cuisine can be found in delicious and authentic abundance, from tacos and tamales on Lake St. in Minneapolis, to delicious Vietnamese pho soups cooked up in St. Paul's Frogtown. And of course, classic Midwestern delicacies can be found all over the place. Walleye is the quintessential Minnesota fish dish, and the State Fair serves up all manner of deep-fried foods that you would never expect to eat on a stick.
One of the great things about Macalester is that its location makes these opportunities that much more accessible. The college is situated just over a mile from the awe-inspiring Mississippi River, which divides St. Paul from Minneapolis. The heart of each city is only a short bike ride away, and the reliable public transportation system runs buses all over the Twin Cities.
When I came to Macalester I was anticipating a major downgrade from the big city privilege I had enjoyed all my life. But what I discovered was a diverse urban landscape with its own unique feel, offering endless possibilities for arts, education and entertainment. I will treasure my time at Macalester not just for what I learned in the classroom, but for the wonderful experiences that I enjoyed every day as a resident of the Twin Cities.