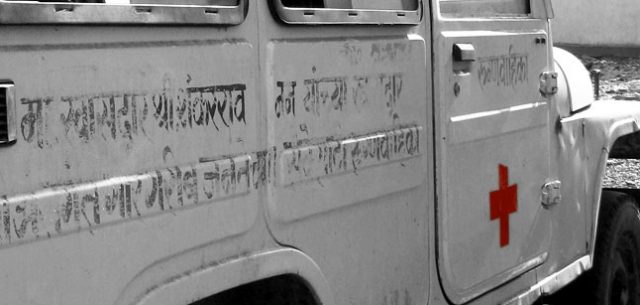 The new community and global health concentration is fast becoming popular with students. So is taking a term abroad to further explore that subject. Here are the stories of three students who did.
Claire Schuch '11, Chile
Central Chile experienced an earthquake while Claire Schuch '11 (Leersum, The Netherlands) studied in the northern part of that country. An international studies and geography major, Claire was in Arica, Chile, studying traditional medicine and community enpowerment. "It was beautiful to see the solidarity that arose after the February 2010 earthquake. It injured many people and destroyed many houses, but the country was quick to react and Chileans all over the country supported the stricken region with donations of money, food, blankets, and services."
Despite the tragedy unfolding south of her, Claire was able to continue shadowing doctors and nurses throughout Chile and Peru to learn about the traditional medicine of the Aymara and Mapuche people, participating in service projects wherever she went.
In an independent study project she also explored how accessible Arica's hospital is to the poorest and most vulnerable people of that city. To other students considering going abroad to study public health, Claire says, "I highly recommend going to a developing country because it gives you a lot more exposure to health inequalities that will better help you understand global and community health issues."
Although the language barrier and living with a host family were challenging at times, says Claire, the hardest part of her study abroad experience was leaving Chile at the end of the semester. "It was only then I realized how much I'd done and learned."
As for the next few years? Claire hopes to earn an advanced degree in public health and to return to Latin America—soon—to put it to work.
Graham Bevan '11 and Sophia Slote '11, India
"When over 40 percent of the population lives below the international poverty line and urban planning is nonexistent, the sufferings of the destitute are conspicuous. That was the hardest reality we faced in India," wrote Graham Bevan '11 (Seattle) and Sophia Slote '11 (Lenox, Mass.) of their global health term abroad.
Bevan, a biology major, and Slote, a psychology major, spent a semester in Pune, India, where both lived with local families: Graham with the owner of a metal working factory and Sophia with a retired school principal.
Besides taking classes about contemporary India and public health and development, Graham did a research project about Indian people's sources of medical information and how medically informed the practicing doctors in Pune are, and Sophia interned with a group working to improve infant health in a Pune slum. Graham also interned with an organization providing healthcare in the slums.
When their study program ended in early May, they hiked through the Himalayan foothills, following the source of the Ganges. They also traveled to Kerala, Mumbai, and rural villages outside Pune, visiting farms, drought programs, schools, and health clinics.
The pluralistic medical system of India, which gave them a new perspective on alternative treatments such as ayurvedic medicine, was especially interesting to these budding health care professionals (Graham hopes to attend medical school and Sophie to earn a master's degree in public health.) "These so-called alternative medicines provide a more holistic health care system," says Graham. "Our experiences studying Indian health care motivated both of us to step beyond the disease-oriented model of health in our future careers."
As for surprises? "Drinking cow urine for daily nutrients and spiritual health, a terrorist bombing on a restaurant we frequented, fighting with bulls and cattle for sidewalk space, the generosity of Indians living in intense poverty, and Graham's incessant marriage proposals were just a sample of the surprises we met on a daily basis," says Sophie.