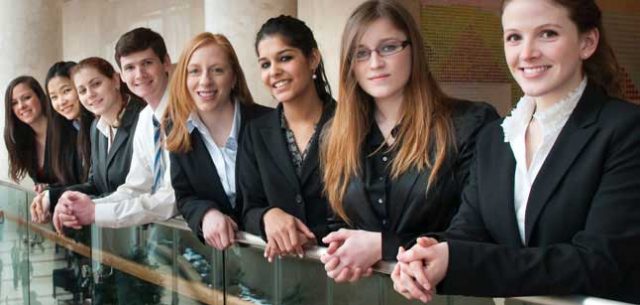 Two Macalester teams recently presented at the Mayo Clinic in Rochester, Minn., their analyses and recommendations about inventions in development at Mayo as part of the  Mayo Innovation Scholars Program.
One team's project focused on a novel peptide to treat hypertension and the other team analyzed a new surgical treatment for esophageal cancer.
"This was a unique opportunity to partake in the development of biotechnology," says Hannah Irvine (White Bear Lake, Minn.) "The understanding of medicine, research, and biomedical technology I developed through this process will definitely stay with me as I pursue my goal of becoming a physician."
"Learning how to find a medium of language between students who brought a business perspective with students who brought a science perspective was an invaluable experience," says Karin Loch (Lake Oswego, Oregon). "By the time we presented our recommendation at the Mayo Clinic, I was able to comfortably incorporate medical terminology into my cost-revenue analysis."
Fellow Oregonian Nick O'Connor (Portland) agrees, adding, "The Mayo Licensing Managers must bring all types of knowledge and skills to their jobs, and the program certainly demanded this of the undergraduate students as well."
In this program, undergraduate science and economics students, alongside a graduate student in business, analyze projects submitted by Mayo physician-scientists. The program is a collaborative effort between Mayo Clinic and select Minnesota colleges and universities, with financial support from the Medtronic Foundation.