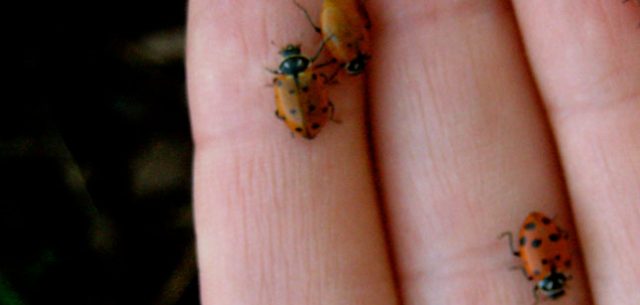 "Being part of Bonner is … about being passionate about bettering the quality of life in our communities.  Working with Breakthrough this summer allowed me to actually be a Bonner. I can be change." –Rowda Farah '14
Whether they were teaching art in St. Paul, tending to tomato plants in Utah, or interviewing migrants in Morocco, Macalester's Bonner Scholars were busy this summer in the name of social change.   
Each year at Macalester, 12 students are selected to join the Bonner Scholars Program, a four-year civic engagement experience hosted by 27 colleges nationally.  This year, the Summer of Service internship sent nine current Mac students into communities local and global. 
Rowda Farah '14 (Minneapolis, Minn.) worked with high-potential middle school students at Breakthrough St. Paul, a program that creates a rigorous college-going academic culture for under-resourced youth.  She taught an art class and organized visitor days that linked prospective donors to Breakthrough participants.  
She also formed connections that will outlast the summer: This year, Farah will continue her work at Breakthrough as part of her off-campus student employment through Bonner. 
Thousands of miles away from St. Paul, Vincent Siegerink '14 (Leusden, The Netherlands) started the summer with an invitation to conduct research on the human rights of sub-Saharan migrants and refugees in Morocco. After completing background research and interviews with migrants in Tangier, he decided to focus instead on the individual story of a young Senegalese man in Morocco.   
"I hope to give migrants a human face in my report," he says.  "In Bonner, we attach a lot of value to serving on an individual level, and he and I both gained something from this project. Real-life experiences are essential to thoroughly understanding global issues."  
Like many Mac internship experiences, Emma Buechs '13 (Glendale, Wis.) found her summer plans thanks to a campus connection: She learned about Wasatch Community Gardens in Salt Lake City from one of her Veggie Co-op roommates, got in touch with the executive director, and secured an internship there.  
Each morning, she taught summer camp sessions and then biked across town to run classes for summer agency programs topics ranging from honey bees to harvest parties.  
"This summer has solidified my belief in the importance of hearing everyone's story and building community around diversity," Buechs says. "No matter what I major in at Mac, the most important thing is finding my voice and passion—and then not just sharing them in the classroom, but taking them into larger communities and realizing I have the agency to create change." 
Siegerink is among Macalester's Davis United World College Scholars