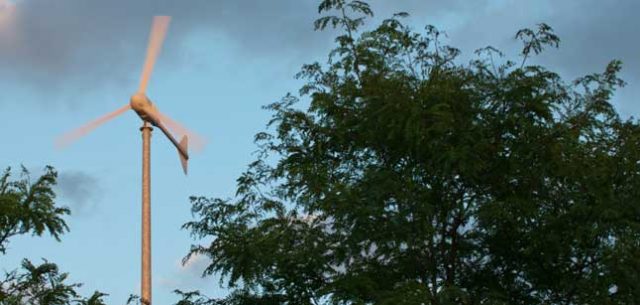 Wind energy is rapidly developing in the United States, drawing from a multitude of political, environmental, and economic factors.  The construction of wind turbine facilities has impacted surrounding communities in complex ways.  Controversy has arisen in communities who have both desires for new energy sources and economic opportunities and concerns about the scenic, economic, and environmental impacts of wind energy.
Professor Phadke's research project seeks to better understanding how communities can navigate controversy and engage in the process of wind energy development. The project is funded through a National Science Foundation grant.
This summer Ava Buchanan '13 (Jamaica Plain, MA), Natalie Camplair '13 (Portland, OR) and
Erica DeJong '13 (Seattle, WA) worked with Phadke. The group conducted research for the viability of
wind development in Manistee, Michigan. The research focused on the community's receptivity to wind energy technology.
The project's achievements include:
Hosting a workshop on the scenic issues of wind development and Southeastern Wyoming and writing a follow-up report detailing the workshop's results.
Developing 10 case studies of local controversies around wind development.
Creating maps depicting the state of wind energy development and opposition in the U.S.
Studying the application of Visual Impact Assessments to wind development
Compiling various creative responses in support or protest of wind energy.