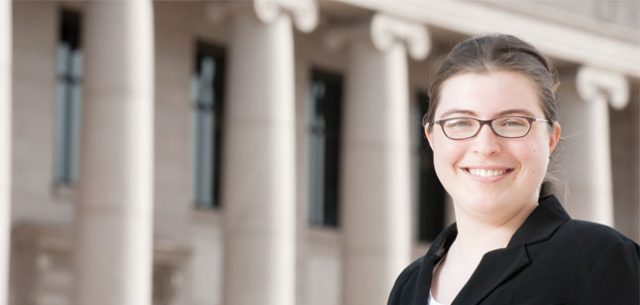 Hanna Chakoian '12
Viroqua, Wisconsin
Mathematics
It's not often that mathematics and the judicial system meet, but that's the case this spring for Hanna Chakoian '12 (Viroqua, Wis). The math major is working with math professor Karen Saxe to complete an independent study course based on a project for the chief judge of the Minnesota Court of Appeals.
The work originated as a class project in Chad Topaz's course Mathematical Modeling. Chief Judge Matthew Johnson wanted to know how many of the cases filed with the court would make it to the point of being scheduled for hearings—and when. Predicting the workflow of cases would help the court plan its schedule and anticipate the urgency of replacing retiring judges or the necessity of bringing in semi-retired judges to hear cases.
Predicting the workflow of cases would help the court plan its schedule.
Some cases will be dismissed for procedural reasons and never be heard on the merits, according to Chief Judge Johnson. "That's the 'drop rate,'" explains Chikoian. "Others will be ready to be scheduled for hearing, typically in three to six months. We wanted to figure out what was likely to happen in that 'black box' between filing and being scheduled for hearing."
Three other students—Maxray Savage '13, Siqi Zheng '13, and Yilikal Zeleke '12—also were sufficiently intrigued by the project to continue working on it as volunteers, but only Chakoian planned an independent course around it.
"It's something real, not a contrived problem from a book," says Chakoian, "and Chief Judge Johnson has been very generous with his time." At the study's conclusion, the students will present their findings to the chief judge and his staff and teach them to run the software they used for the project.
Chakoian intends to apply to graduate school in a year or two. Meanwhile, she calms her senior stress by playing viola with the Minnesota Philharmonic Orchestra.