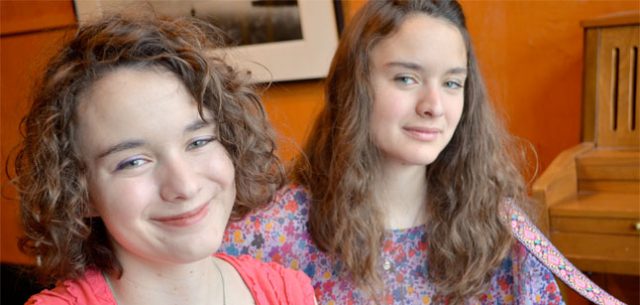 Twin sister English majors Andrea and Juliet Wilhelmi '14 created a name for themselves in high school – Mirror Image. Under this title, they made a CD, won songwriting contests, and opened for the local musicians in their hometown of Roundup, Montana. They have continued to make and perform music in college.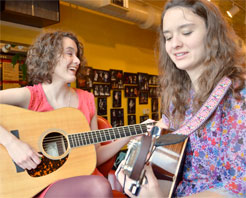 Andrea recalls participating in two jam sessions one of the first weekend nights of  her freshman year. She says, "It's great that we are surrounded by so many people at Mac who are musically talented." She explains, "I can tell somebody, 'I need a trumpet or bass solo.' Not only can I find musicians to play parts for me, but they can also show me musical ideas I had never considered before. It's pretty cool."
Both sisters encountered new ideas in Professor Randy Bauer's class, The History of Jazz. Andrea says, "The class did very interesting things to our music." While Andrea composes pieces that have a 1925 swing, Juliet composes music influenced by jazz as well as bluegrass and country. Andrea also sings and plays guitar in a jazz combo lead by Professor Joan Griffith. The series of combos include everyone from upright bassists and saxophonists to metal guitarists.

Andrea and Juliet perform in a variety of other settings on campus. Andrea has taken voice and guitar lessons. While she hasn't taken official lessons, Juliet confirms that participating in The Highland Camerata, an inclusive chorus, was great for her voice. One of her favorite extracurricular activities is Medicinal Melodies, a volunteer organization whose participants gather with their instruments and ideas and perform for those suffering from illness in the Twin Cities. Together, the sisters sing in The Sirens, the all-female a cappella group, at open mic nights, at poetry slams, and – most recently – Mac's Relay for Life.
The sisters also sing off-campus. Last semester, they had their own show at Dunn Brothers. Half of their songs were originals and the others included covers of Frank Sinatra, Elvis, Johnny Cash, and Ingrid Michaelson. Whether on or off campus, Andrea says, "We have a pretty eclectic repertoire." While they hope to participate in the music scene off campus, their primary interest is sustaining their musical involvement on campus.