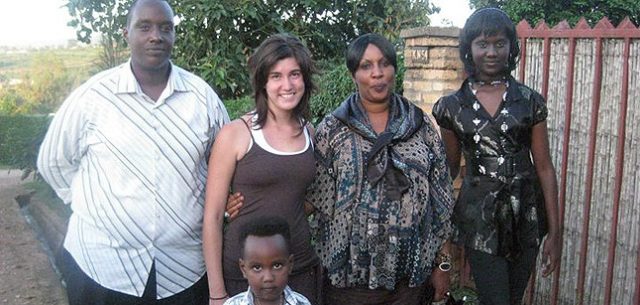 A semester doing post-genocide studies in Rwanda was a life-changing experience for April DeJarlais '12.
While studying last year in Rwanda, says April DeJarlais '12, she felt like "an empty sponge absorbing everything" in what she calls "a land of a thousand beautiful green hills."
"I didn't know what to expect there, and it was shocking at first how much there was to learn and think about," says DeJarlais, who was in Kigali with the SIT Post Genocide Reconciliation and Restoration program. The program helps students understand how a country that's been through the collective trauma of the 1994 genocide can begin to heal.
"Just living with a family in a different culture was full of surprises and represented an intense learning curve."
DeJarlais and two other Macalester students, along with others in their program, lived in Rwandan homes for most of the semester, then rented a house for the end of the program. DeJarlais's host family was made up of five daughters, two parents, and two male cousins. "Just living with a family in a different culture was full of surprises and represented an intense learning curve," she says. "Plus there were those extended family dynamics that most Americans aren't familiar with."
Her host family members were also devout Christians (Christians are in the majority in Rwanda) who prayed aloud and regularly attended church services—"the happiest church service I ever went to," laughs DeJarlais.
As a Caucasian woman from suburban Minneapolis, she says, one of her biggest surprises was learning how it felt to be "absolutely an outsider because of how I looked—I'd never experienced that before. Everyone should."
In the research portion of her study abroad term, DeJarlais looked at various therapeutic methods for women who were traumatically affected by the genocide, sexual violence, or other violence. She concluded that although individual talk therapy is useful, group therapy is "the most organic way to deal with psychological issues" and also relies less on the existence of many therapists. Combining that group therapy with social and economics development, such as a women's sewing cooperative, is even better, she says.
DeJarlais, an international studies major with an anthropology minor and a human rights concentration, won a Macalester grant to help fund her study abroad program. In February she presented her research findings at a human development conference held at Notre Dame.
DeJarlais, who graduated last December, is working with a small Minneapolis publishing company and has a communications internship with The White House Project, a nonprofit working toward gender parity in politics and business. She'd like to learn more about human rights work and determine if that's the direction in which she wants to take her career. Working for an NGO may very well be in her future. Says DeJarlais of her Rwandan experience, "It felt the beginning of something for me."