It's rare for an undergraduate institution to have an eye-tracker so Professor Brooke Lea and his students are making good use of this equipment.
"It's been said that the eyes are the window to the soul, but they also can be a window into what people are thinking and feeling, and to how we process the world around us," says psychology professor Brooke Lea.
Processing that world has become easier at Macalester since the college received a new eye-tracker instrument, allowing students and professors to conduct cutting-edge research on a wide range of behavioral topics. Eye tracking is the process of measuring either the point of gaze—where we are looking—or the motion of an eye relative to the head. An eye tracker is a device for measuring eye positions and movement.
In the late 19th century, scientists started using eye movements to try to understand what people were thinking. The first eye-trackers were invented in the early 1900s; by the 1960s, the device became a popular method of analyzing how people processed information.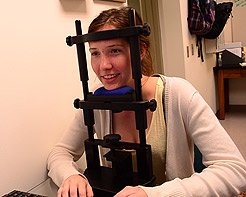 Macalester's modern day eye-tracker uses infrared light and precise video cameras to track eye movements, twice a millisecond, with high temporal and spatial resolution. "Eye trackers are useful because they can be used as a window into the mind," says Lea. "What people look at can be very revealing about how they're processing what's in front of them."
Lea obtained funding for the device from a three-year National Science Foundation (NSF) grant received jointly with Augsburg College. Both schools will collaborate on curricular development and research.
During the first two years of the grant, Lea and his students will develop lab modules based on eye-movement research for classes in Introductory Psychology, Research in Psychology, and Cognitive Psychology. The third year will feature a team-taught course on science writing called Bringing Psychological Science to the Masses. As their final project, students in the class will develop and present an exhibit on eye movement research at the Science Museum of Minnesota.
Psychology major Paul Rebman '14 (Wheaton, Ill.) is using the device this summer with environmental psychology professor Christy Manning to measure how connected people feel to an issue through time, space, or importance. Eye-tracking data can also be used in real-world settings, such as studying how people read food labels and designing web pages to better reflect the way people read online.
Psychology major Emily Prazak '12 (Grantsburg, Wis.) used the eye tracker for her senior honors project, in which she measured facial expression recognition by focusing on how people look at faces. "This research is important because we use faces so much in our social interactions," said Prazak. "We can garner information from a face just by a glance. People can almost tell what you're thinking."
"I hope it will change the way students … understand complex cognitive and non-cognitive behaviors" – Prof. Brooke Lea
Annalisa Harty '14 (Park City, Utah) has a work-study job in the eye-tracker lab, where she's learning to program experiments and analyze data. Because of their expense and the difficulty of operating an eye tracker, it's rare for an undergraduate institution to have one. The fact that such a device has found a home at Macalester is a sign of how much support Macalester has from the NSF and other outside funders, says Harty.
Body image and how people view themselves when they see themselves in a photo are among psychology professor Jaine Strauss's major research interests. Previously, this information could only be thought of metaphorically, but with an eye tracker, she can see which parts of the body people look at, and how that data can test theories about body image and self-esteem.
Clearly many students and faculty have already made good use of this cutting-edge equipment. Says Lea, "I hope it will change the way students view what we can learn from very small behavioral movements, and how we can understand complex cognitive and non-cognitive behaviors."
Video edited by Kalie Caetano '13 and shot by Kyle Rosenberg '13.