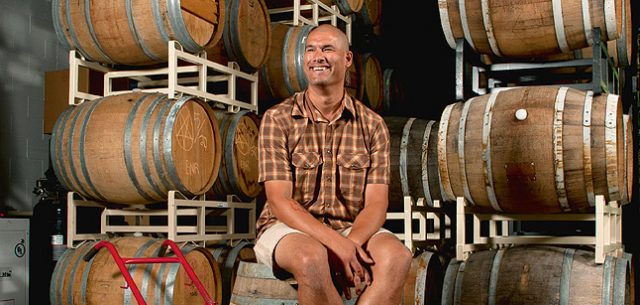 Students who are told that playing Ultimate Frisbee and drinking beer won't get them far can point to the life story of Omar Ansari '92 as proof that following one's passions can bring success.
Anasari, an eleventh-hour economics major, grew up the son of entrepreneurs who founded and operated a small manufacturing company in the Minneapolis suburb of Brooklyn Center. Though he knew he was welcome to join the family business, Ansari resisted the idea until graduation loomed. "The last thing I wanted was to work for my folks," he laughs, "but as graduation got closer, it started to seem like my best option." Thus the economics major decided, "I'd better figure out how the business world actually works."
Even with that economics degree, Ansari didn't exactly excel at running the family business, a small industrial abrasives manufacturer. "After I took over in 2002, I kind of ran it into the ground," he says. Luckily, his personal life was thriving, what with playing Frisbee in the Twin Cities Ultimate League—where he met his wife, Rebecca Sheldon Ansari—and brewing beer at home. (They now have four boys under 10.)
As the years went by, Ansari's interest in brewing intensified. In 2004 he decided to turn half the abrasives plant into a craft brewery. His family was supportive. Ansari's parents came out of retirement so he could focus on making beer, and his wife—an emergency room physician—was behind the effort as well. In 2006, the company—by now dubbed
Surly Brewing —sold its first keg.
Once free to follow his dreams, nothing could hold Ansari back. "My parents are true immigrant entrepreneurs," he says. "My dad came here from Pakistan to open a business and live the American dream. It's in my blood."
Surly Brewing has grown steadily ever since, producing more than 15,000 barrels in 2010 and winning international acclaim for its unique range of beers, including the stout Surly Darkness, voted one the best beers in the world in 2011 by RateBeer.com. In 2007, Beer
Advocate magazine named Surly the best brewery in America, and in its February 2012 issue Esquire magazine called Surly's Cynic Ale one of the "Best Canned Beers to Drink Now." By 2010 Surly sales had reached $4.7 million.
All this media acclaim is backed up by a devoted fan base, dedicated beer lovers who rallied behind Ansari last year when he successfully advocated to change state law so that breweries could sell beer on site. The Surly Bill was passed in part because of a well-timed social-media campaign that led Surly's many Facebook friends to contact state legislators.
In May 2012 Governor Mark Dayton signed into law a bill that allows brewers producing fewer that 250,000 barrels a year to sell beer at "destination breweries" across the state.
For Surly, the result will be a new $20 million brewery with restaurant and beer garden, slated to open in 2014 at an as yet undisclosed site. The new brewery will be capable of producing up to 100,000 barrels a year, and the workforce will grow to 150 employees.
Despite everything, Ansari hasn't let success go to his head. "I remember saying to my wife,
'Wouldn't it be great if we could expand the brewery so much that my folks could finally retire?'" Ansari recalls. "It was never part of the dream for Surly to get big. We've focused on trying to make really good beer and people embraced us. Most days, I'm as shocked as anyone that it's been a success."
"It's called Surly because that's how my wife and I feel when we walk into a bar and can't find any good beer to drink."
Back when he was at Mac, Ansari provided a helpful perspective, remembers economics professor Jeffery Evans. "Omar was very grounded," he says. "He'd already worked for his family business so he had some street smarts, which is nice to have in the classroom." Evans believes that Ansari's playful, creative approach to business—from the names of his beers down to the moniker he gave his brewery ("It's called Surly because that's how my wife and I feel when we walk into a bar and can't find any good beer to drink,") show that he's living out his passions. And that's the best way to make a living.
With that passion comes a certain fearlessness. Although Ansari acknowledges that the bottom could always fall out of the craft beer market, he's happy to take the risk. "Sure, things could always go wrong. But like I told my friend the other day on the slopes, 'If you're not falling down, you're not skiing hard enough.'"
Andy Steiner '90, a St. Paul freelance writer, is a regular contributor to Macalester Today.