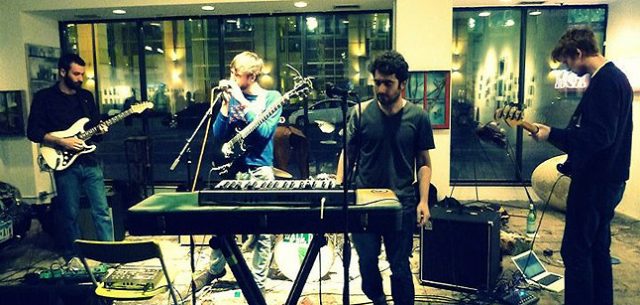 Mickey Davis '13 cultivates Mac bands while making his own music.
"Music has driven my whole life," says Mickey Davis '13 (Des Moines, Iowa). This summer, he'll be in the driver's seat while touring the country under the name "Olsen Twinns," performing his own electronic computer music.
Interestingly, this music major arrived on campus unable to read music. Now he composes it. Despite his success performing in such Twin Cities venues as Fine Line Music Café and 7th Street Entry, Davis wouldn't be able to afford to tour if it weren't for Mac students willing to harbor him along the way. "Mac is great," Davis asserts, "because you meet people from all over the U.S. and you always have someone's living room floor to sleep on."
When he's not focusing on his own musical career, Davis enjoys promoting other Macalester student bands. In fact, he wishes he had the time to attend every Twin Cities performance of a Mac band—about two to three a week. Active student bands include Bad Bad Hats, Blue Herron, Carroll, Ddean Cassidy, Maeth, Mirror Image, Mother Faulkners, The Muskies, Pursued by a Bear, Replicas, and Word on the Street, among others.
Says Davis, "What blows me away is that huge amount of talent I know about isn't even all the talent there is at Mac." Others are equally impressed. Andrea Swensson, a DJ on Minnesota Public Radio's The Current, 89.3, has been spinning tunes from four to five student bands and has invited all Mac bands to send her their music. "It's a good time to be part of a student band at Mac," Davis says.
Last year's battle of the bands, whose victor played at Springfest, contributed to the upswing in student band activity. Since then, says Davis, student bands "have been coming out of the woodwork." Davis was concert and festivals coordinator for this year's Springfest, held in April. To get the bands Deerhoof and Biz Markie on campus, he used connections he made while working last summer at an Iowa music festival. When the bands were in residence, he made sure they had what they needed and were comfortable.
Davis delves wholeheartedly into his position because the bands also refresh him. "Musical events such as these sustain me as a human being," he says. "The feeling of making music with others, sharing music with others, and listening to music with others is what I live for."