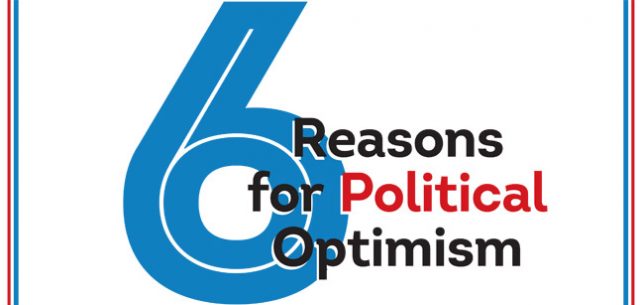 In an election year, there's no shortage of attack ads, mudslinging, and fearmongering. It's enough to give even the most glass-half-full types pause. But before you listen to the latest reports of the sky falling, take note of why these Mac faculty, alumni, and students think there are plenty of reasons that, politically anyway, things are looking up. Whether you lean left, right, or center, we're sure you'll agree with our experts that there are real reasons for hope.
The political discourse about same–sex marriage is getting more civil.
Jane Bowman Holzer '02 is the board secretary for Project 515, an advocacy organization working to ensure that same sex couples and their families have equal rights under Minnesota law.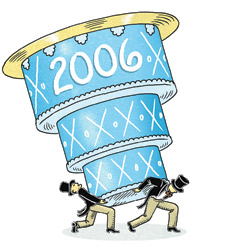 One of the most dramatic changes I've seen in the last 10 years is the nature of the debate about same–sex marriage. In 2006, for example, then-Minnesota state senator Michele Bachmann did her best to pass a bill that would have put an amendment on the ballot restricting marriage to unions between a man and a woman, and outlawing civil unions. While it was being discussed on the floor, the debate strayed toward statements like: homosexuality is wrong, homosexuals are pedophiles, homosexuals shouldn't teach our children in schools. This radical rhetoric was espoused by only a few, but it was happening. People were bringing offensive signs to the capitol about how gay people should die.
Fast forward to 2012. The bill that will be voted on in Minnesota this November is much smaller in scope, but more importantly, the discussion around it contained no comments about gay people being inherently bad. Instead, the discussion was entirely: "Let the people vote." Those who wanted the amendment on the ballot never got off message. I think people are finally realizing it's just not acceptable to make derogatory comments in public about gay people.
There's never been a better time to spread your political message.
Jake Levy-Pollans '09 is the Minnesota digital director of Obama for America.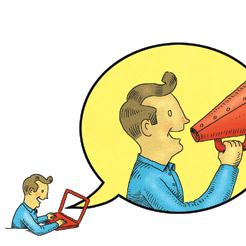 In 2008, everybody was talking about how important Facebook was during the campaign, and that's true. But to put that in perspective, Twitter now has about the same number of active users as Facebook did in 2008—and Facebook has hundreds of millions more. There are also new tools like Tumblr and Pinterest. Social media reaches a far broader cross-section of the country than it did four years ago. Why is that important? Because it's our job, in politics, to talk to people where they are. That's why we call voters on their phones and knock on their doors. But today, people are also on their social networks, so we have new ways to connect with voters and educate them about election choices. Digital tools also make it easier for us to keep track of how many people we're talking to, and to spend less time driving among field offices. Sometimes, we don't even have physical field offices at all, just digitalones. Technological tools mean that it has never been easier to get involved in a campaign, that more people are getting involved, and that more of them are engaged than ever before. And the existence of greater numbers of educated and engaged voters makes me optimistic for our democracy.
Female politicians are aiming higher.
Julie Dolan is an associate professor of political science at Macalester.
Political scientists had all sorts of theories about the first mythical woman who would seriously contend for the presidency, and we were really wrong. We thought it would be someone who came via the vice presidential route or a moderate Republican who appealed to both parties. A liberal Democrat like Hillary Clinton was unexpected. This election cycle, there was Michele Bachmann, a much more conservative candidate than Hillary Clinton, who became the first woman to win the Ames straw poll. What encourages me is that these are two very different women with very different strengths, who decided to go for it. They asked, 'Why not me?' In years past, I think women were, reasonably, much more cautious about running for office. There was a sense that if you ran and didn't win, you were setting back all women. But today, Michele Bachmann can run as herself, not as "a woman doing what Hillary Clinton did." And the press seems to treat her not as the second woman running for the nomination but as a candidate who happens to be a woman. I find this development encouraging. Clinton, in many ways, paved the road for future candidates to say: Women can do this. It doesn't take one particular kind of woman. The field is much more open for women than it used to be.
Young people still consider politics a way to make positive change.
Andrew Ojeda '13 is running on the Republican ticket for Minnesota State Representative in St. Paul District 64A.
I grew up in Fresno, California, and I'm just the second person from my family—I have three older brothers—to go to college. I have a double major in political science and German studies. I would have added a triple major in economics, but running a campaign takes a lot of time.
Four years ago, when the Republican National Convention came to town, I started getting involved in politics. Eventually I became co-chair of MacGOP, which was named chapter of the year by the Minnesota College Republicans. During caucus season this election cycle, I got involved in some local races, but I wanted to do more than just head to the polls or put up a yard sign. Eventually I decided to throw my hat in the ring for state representative. I got the nomination and I haven't looked back. I always thought I wanted to be in business, but the more I learned, the more I realized that politicians are much more influential than most businesspeople. One of the top things we need to address is taxes. Minnesota is one of the highesttaxed states for individuals and businesses. So I've been talking with current legislators about what we can do as individual representatives not only for our district, but for our state. As a Republican, I know that many Macalester students don't agree with me on every aspect of politics, but there are many things we can agree on, including how politics should be run. We need to listen to the other side and understand where they're coming from. Will I win? I'll say this: We're doing the best we can with what we've got.
Proactive bipartisan politics can still work.
Rebecca Otto '85 is the Minnesota State Auditor.
When the markets crashed, all investors were affected, no matter how well diversified—even government pensions. Investment returns for pensions were down. The number of government employees stayed flat or declined, so growth in employee contributions to the pension system did too. The pay for government employees was generally frozen, which meant that pension contributions based on salary growth assumptions were no longer accurate. At the same time, Baby Boomers were beginning to retire, so there were more people drawing from the system. For some states, all these factors have led to a train wreck. But Minnesota recognized the issues sooner and was an early reformer. The changes implemented during the 2010 Legislative session were bipartisan, and all affected groups supported the changes. Employers and employees contribute slightly more; retirees' cost of living adjustments were reduced until a certain funding level is achieved. The solution involved all parties sacrificing, with everyone understanding that we needed to make these changes to ensure the long-term stability of the pension plans. As a result of our progressive, forward-thinking policies, Minnesota pension funding levels are going in the right direction. It's really important to be proactive in government. It's less painful and expensive than a reactive approach.
Technology is breathing new life into political humor.
Adrienne Christiansen is an associate professor of political science at Macalester.
If you're on Facebook, you've probably seen "posters" of photos or old movie clips with ironic, funny, or sarcastic political captions in block letters. People find them, post them, and sometimes they go viral. One popular example is "Texts from Hillary," which shows Secretary of State Hillary Clinton exchanging fake texts with politicians and celebrities. Whatever views these on-line posters share, it's a sign that Americans are expressing their views about politics—and that's a good thing. I've always been interested in political humor and parody because it's a release valve for people's pent-up political feelings. And today, thanks to social media, it's so much easier to share those ideas. These posters democratize people's capacity to make political statements that draw on cultural memes and cultural knowledge, regardless of one's political view. Will it change Wall Street? Will it change democratic institutions? Probably not. But it shows that we're not just rolling over and saying, "The heck with it. I give up." And that, to me, is a very hopeful sign.