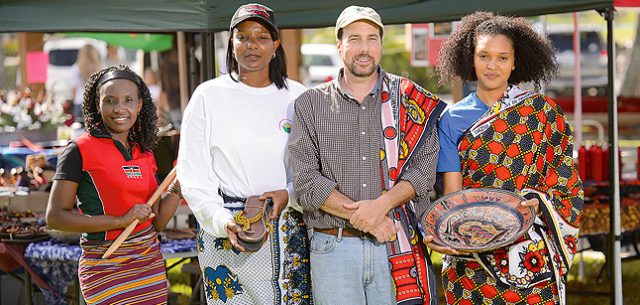 BY LAURA BILLINGS COLEMAN
The Benjamin School in North Palm Beach, Florida, is an elite private institution that offers Mandarin Chinese, more than 20 Advanced Placement classes, and sends graduates on to some of the country's most prestigious colleges. For most of its history, the Ebusiloli Secondary School in rural Kenya had no running water, no electricity, and students who walked hours every day just to get to class.
It would be hard to find two institutions with a greater resource gap between them. Yet one critical bit of human capital they've shared is Jim Cummings '86, a history teacher who has leveraged his connections in both communities to broaden the global perspective of students in America, and the lifelong prospects of students in Africa.
It started in the late '90s, when members of the Benjamin School cross-country team, which Cummings coached, wanted to hold a run to build camaraderie and raise money for charity. "I realized I knew just the place that could use their help," says Cummings, who often spoke to his students of the two years he'd spent as a World Teach volunteer in Kenya after graduating from Macalester with a history and international studies degree.
Cummings took the funds he and his team raised and started returning to Bunyore, Kenya, in the summers, supervising improvement projects at Ebusiloli's primary and secondary schools, researching future needs, and returning with stories for his Florida classrooms. "Seeing how much we could accomplish with just a little money became kind of addictive," says Cummings, who brought books and science equipment to the schools as well as planted trees, added solar power, and improved the buildings. Enrollment skyrocketed.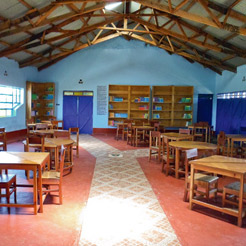 The entire venture was so compelling that in 2002 Cummings created an official 501c3 nonprofit, Kijana Educational Empowerment Initiative (kijana is Swahili for youth), recruiting three Macalester classmates— Robert Gass '85, Helga Ying '87, and Mark Madison '86—to serve on his board.
Relying on email, Skype discussions, and the deep friendships that Cummings has nurtured in Kenya for more than a decade, KEEI in 2005 added a second project in the town of Mwituha, about eight kilometers away, where there was no secondary school. Kids had been walking for six hours each day to attend school. In Mwituha KEEI converted two abandoned schoolrooms into a campus for nearly 300 secondary students, built a library, amphitheater, and science lab, stocked classroom shelves with thousands of books, and provided shade by planting hundreds of trees. According to Gass, a former Peace Corps volunteer in Togo currently working in Thailand, the organization's investments in more than 25 schools have been powerful proof that "well-equipped schools can be put in place at relatively low cost." Madison, a U.S. Fish and Wildlife Service historian, estimates that creating the entire Mwituha Secondary School campus cost only $125,000, adding, "That's probably what most schools would spend on their sports facilities." (The final Mac board member, Ying, is senior director of government affairs for Levi Strauss & Co.)
Another factor that has kept KEEI "insanely cost efficient," as Madison puts it, is Cummings's own commitment to empowering African students through education, and connecting them (via Skype and summit-style discussions) with students in the U.S. "Basically, because of Jim's altruism we have zero overhead," says Madison.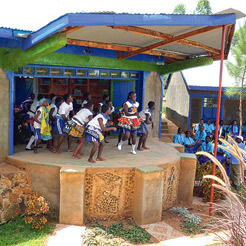 In 2009 Cummings resigned from the Benjamin School to run KEEI full time, funded by his personal savings. He hopes to soon createa sustainable financial base that can support and staff the nonprofit's growth. "It's been a big leap of faith and the jury's still out on whether he'll succeed," Madison says, though the Kenyan school communities KEEI has invested in clearly appreciate the effort. "There are buildings named after me…" Cummings admits, "and children."
With more time to spend in Kenya, Cummings has been working closely with the local governments that run the schools, and he's especially proud of the schools' surging enrollment and test scores, highly qualified local teachers, and graduates who've gone on to universities from Nairobi to Arkansas. "We don't just want to build schools
—we want great schools," he says. "There's an incredible amount of human wealth and capital in Kenya. There's a future Steve Jobs, a future Bill Gates out there in rural Kenya. The world is losing out if we don't help these people get access to education."
It's a message he's sharing not only with potential American donors, but with Kenyans as well. "The economic growth that parts of Africa have enjoyed in recent years is probably one of the untold stories in the world right now," says Cummings. The west, he adds, is just beginning to notice the country's progressive embrace of technology and mobile money systems like M-Pesa, where an estimated third of Kenya's Gross Domestic Product is transferred among mobile phones every year. "So one of our goals is to find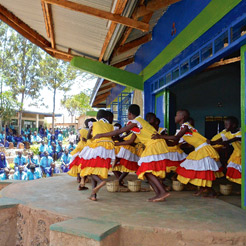 financial support through small contributions from Kenyans, maybe right on their cell phones."
Also on the list of priorities is exploring whether KEEI's model could be expanded beyond the Bunyore region, to Tanzania, Uganda, and other communities that have taken note of KEEI's success. "It's something we may look into," he says. "Though there's a lifetime of work right here."
And then there's one pipe dream that Cummings believes Kenya's growing economy could really use. "There are more students who want to go to university than there are places for them, but one thing they don't have is a liberal arts college," he says. "I guess you could say Macalester made a big impression on me because someday I'd really love to see a school like that in Kenya."
St. Paul writer Laura Billings Coleman is a regular contributor to Macalester Today