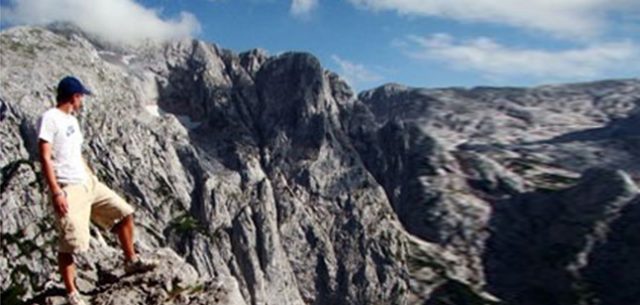 It's not surprising that one of the highlights of Mark Riegel's internship at the Will Steger Foundation (WSF) was meeting the acclaimed polar explorer and climate change activist himself.
Riegel '14 (Batavia, N.Y.), an environmental studies major, worked for WSF over the fall semester. Steger started the foundation in 2006 in response to the growing effects of global warming he witnessed through his many polar expeditions. WSF focuses on youth education and supports educators with curriculum resources, professional development, and action resources on the issue of climate change. They also do public outreach to demonstrate the benefits of a clean energy economy—economic as well as public health benefits.
With headquarters in both Minneapolis and on the Will Steger Homestead near Ely, Minn., WSF focuses its programming the region, but also has international reach through its Emerging Leaders program. That program is aimed at educating, empowering, and engaging young people to be the next generation of leaders to combat climate change.
Riegel was drawn to the Steger Foundation because of its emphasis on public climate literacy and on creating a climate change curriculum for K-12 students. An environmental studies major, he quickly recognized that interning with WSF was a perfect fit. "It's a great atmosphere to work in—everyone brings their own perspectives while also having a vested interest in the opinions of others," he says. "I learned a great deal from my coworkers and have established relationships that I hope to continue." 
 
During his time at WSF, Riegel focused mainly on coordinating and promoting a series of public forums on the theme of Clean Energy, Climate, and Health that were held in November and December at locations throughout Minnesota. At these forums, Will Steger presented his eyewitness account of climate change centered on his polar expeditions.
During a 2007 expedition, Steger experienced the melting of sea ice firsthand as the ice pack over the Cumberland Sound (by Baffin Island) abruptly broke up and was blown out to sea. "If this had happened a day earlier or if the team traveled a day later, the situation could have been serious," says Steger. "For the local people who live and hunt around Cumberland Sound the situation is serious; the poor ice conditions mean travel between outpost camps is dangerous or impossible and they are unable to fish and hunt for subsistence."
Through his work on the project, Riegel learned of many other Minnesota nonprofits also working on climate change. "I was surprised by the sheer number of them," he says. Riegel worked especially closely with Fresh Energy, a Minnesota public policy organization focused on clean energy, and the Lutheran Coalition for Public Policy, which helped with organizing the public forums.
 Riegel's positive experience on this internship has affected his plans for life after Mac. "I know I want to focus on something in the environmental field but have become open to the possibility of combining this interest with education," says Riegel. "I have come to recognize the power that education has on generating positive change, especially on the issue of climate change."