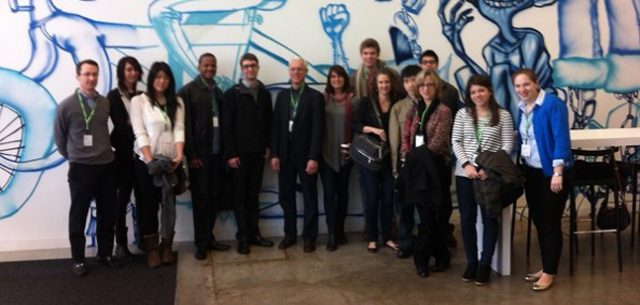 It's Friday morning, January 25, and instead of starting their day by checking Facebook back in St. Paul, 10 Macalester students are at Facebook, about to tour the headquarters and meet with head of consumer marketing Rebecca Van Dyck '91. To get there, they had to apply, but once they were selected to be part of the four-day Mac Connect trip, they got to connect with Mac alumni working in technology all over San Francisco and the Silicon Valley.
The itinerary, supported by alumni and Macalester's Career Development Center, included job shadowing, Facebook and Google tours, a night out in San Francisco with area young alumni, and networking with alumni in the tech sector at an evening reception. The students, whose interests range from software development to marketing start-ups to animation, received tips before they left and during their time in California from CDC associate dean for student services Denise Ward, who accompanied the group.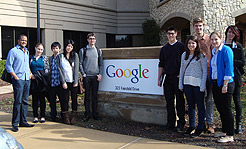 The alumni they met provided two distinct perspectives: the relatable—"to talk to someone who was in your shoes a couple of years ago and works at Google now is pretty encouraging," said Carina Lei '14 (Lake Oswego, Ore.)—and the reflective. Alumni talked through how they made decisions throughout their careers and how their Mac education shaped both those choices and their current work. In his conversations with alumni, Nicholas Brooks '13 (Kingston, Jamaica) was struck by their diverse backgrounds. "Everyone had completely different paths: a different story to tell, a different set of experiences that shaped how they got to where they are," he says.
The trip blended practical advice with big-picture perspective, especially for seniors in their last semester at Macalester. "In college, you think about your GPA and what classes to take," Brooks said. "I learned to think about the journey, too, instead of just the outcome."
The trip's timing was perfect for Brooks: the computer science and math double-major was looking at job postings in Silicon Valley when he got an email advertising the trip. Equally important to the networking and shadowing, he said, was the chance to see what living in Silicon Valley would be like—and how it would be different from St. Paul and Jamaica.
Even during the short trip, geography and urban studies major Sarah Krumholz '13 (Guilford, Conn.) became more comfortable networking and, in her words, "learning how to ask for help for what I want to accomplish" thanks to alumni who made it easy to engage in meaningful conversation.
For most of the students, it was the first time seeing the Mac alumni network in action, and meeting alumni away from the Twin Cities made the experience even more memorable. "There's this connection you automatically have with Mac alumni that makes you more comfortable," said Lei, an art major and computer science minor. "It felt like an extended family."