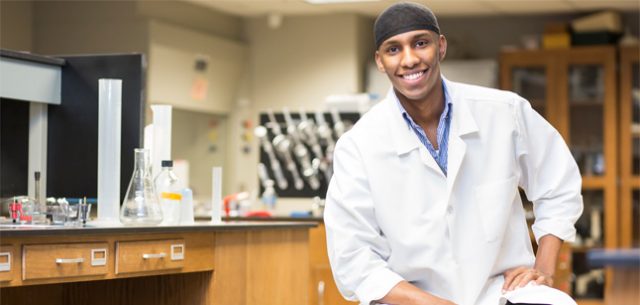 Fifteen days after Abas Noor was born in Somalia, the government collapsed. To escape the resulting violence, his parents packed up their four children and traveled more than 400 miles to the Ifo refugee camp in Kenya. There the fragile newborn was ushered into the hands of a Kenyan doctor.
"It was medicine that cradled me and delivered me from illness and danger," says Noor '13 (New Hope, Minn.). This fraught beginning inspired his interest in medicine, though it is his curiosity, love of learning, and commitment to service that continue to feed it.
A biology and biochemistry major with a community and global health concentration, Noor has taken advantage of many opportunities for research and service. He has done research with biology professor Devavani Chatterjea to establish a model of allergen-induced vulvodynia and worked with Dr. Randy Daughters at the University of Minnesota's Stem Cell Institute on generating skeletal muscle from induced pluripotent stem cells.
Through these research opportunities, Noor came to appreciate the beauty of the scientific method: "You should always frame the questions so that you learn just as much when the answer is the opposite of what you expected," he says.
As a Bonner Scholar, Noor made a four-year commitment to civic engagement and leadership, which took him from interning at the Minnesota AIDS Project to serving as a service leader for Mac's Civic Engagement Center. Service leaders form a bridge between the Macalester community and local agencies and organizations where students may work or volunteer.
Soon Noor will be moving east to continue his education at Brown University's Alpert Medical School. He feels well prepared to do so. "The educational breadth I have encountered at Macalester has primed me for practicing the 'art of medicine,'" he says, "and has refined my love of learning."