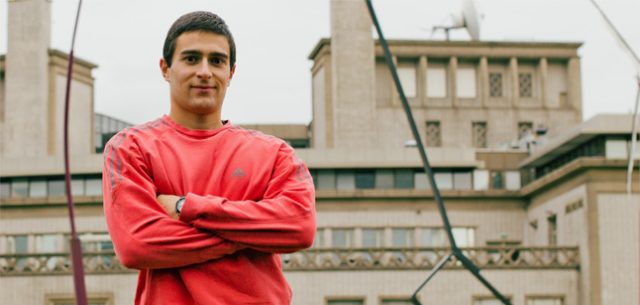 As I left last summer for my Perspectives on Globalization program in The Hague, the Netherlands, I never dreamt I might also end up working there—at the International Criminal Tribunal for the Former Yugoslavia. 
Although each day of my internship was meaningful, one day stands out as especially memorable: The day I met the accused war criminal for whom we were working, Radovan Karadzic.
At the time I was attracted to the Mac-sponsored program—which follows up a three-week August seminar with direct enrollment at Leiden University College—because it offered an attractive location and interesting courses. And of course the city's international vibe, characterized by numerous NGOs and international institutions, made this destination extra appealing for an international studies major like me. Although I was planning to visit the International Criminal Tribunal for the former Yugoslavia (ICTY) and attend courtroom hearings, I never imagined I would be offered an internship there.
Making the internship connection
During our initial three-week seminar with political science/international studies professor Wendy Weber we'd gone on various field trips, including one to the ICTY. There we met Peter Robinson '75, who works as a defense attorney and legal advisor to Radovan Karadzic. Karadzic, the former president of The Republic of Srpska, a Serb entity in Bosnia, has been indicted for crimes of genocide, crimes against humanity, and violations of the laws or customs of war.
Robinson spoke to us about several obstacles his team had encountered in defending Karadzic, including a lack of personnel. Professor Weber suggested I ask about interning with Robinson's unit, which I soon did.  A few weeks later I had passed the security check and begun working with the team.
preparing defense witnesses
Initially I worked with files documenting the war: statements, video and meeting transcripts, as well as police and army reports, many of which were confidential. The goal was to counteract claims made by the prosecution using documents from the field. I was selecting, translating, and passing on these useful documents, which would find their way into the courtroom. Later in the semester I helped prepare defense witnesses for their testimony, with particular emphasis on preparing witnesses for cross-examination. I reviewed witnesses' statements, dug out any relevant and potentially compromising files from the database, interviewed witnesses, and informed them of courtroom procedures.
While doing these interviews I heard many personal stories from the war in Bosnia. For someone who comes from that region, these stories were very hard to hear. This was especially true because, in addition to showing that war brings out the worst in people, these interviews referred to a people with whom I am culturally close.
On numerous occasions I experienced feelings still difficult for me to describe. On one hand I was trying to be professional and help the defense team, but on the other hand I repeatedly encountered personal accounts from the war that accused Karadzic, among others, of atrocities.
Initially as a Serbian I felt uneasy because of this, but the Tribunal's own literature reminded me of something: the actions of a few do not characterize a group as a whole. One of the court's important aspirations is to transform the minds of the people, substituting individual responsibility for national, so that people living in the region of the former Yugoslavia may begin their long and difficult process of reconciliation.
a memorable experience
Although each day of my internship was meaningful, one day stands out as especially memorable: The day I met the accused war criminal for whom we were working, Radovan Karadzic. Robinson introduced us during a courtroom break. It was obvious at first that Karadzic didn't understand that I spoke Serbian, since he greeted me in English. However, once the confusion had been cleared up we began conversing in Serbian. We talked about where I was from, what I was doing in The Hague, and about how Robinson and I had attended the same college. I also mentioned how honored I was to participate in the work of the Tribunal, especially given its historical significance as the first international criminal court after World War II.
As I was shaking hands and saying goodbye to Karadzic, I couldn't help but notice how polite and warm he was. It felt paradoxical to me that a man who seemed so personally gracious could be accused of some of the worst possible war crimes.
world-class lawyers



Working side by side with world-class lawyers and legal assistants was a truly rewarding experience. My fellow interns, all of whom were older than I, made the difficult work much more bearable. I often had to ask for their help, which they unreservedly gave.
My unique experience wouldn't have been possible without Mac's outstanding study abroad program, Professor Weber's seminar on globalization, and Robinson's generosity in giving me a once-in-a-lifetime opportunity.
To Mac students planning to study abroad, I can say this: expect the unexpected and use the chance to dive into a world of life-enriching internships, projects, and activities. You won't regret it. I know I haven't.