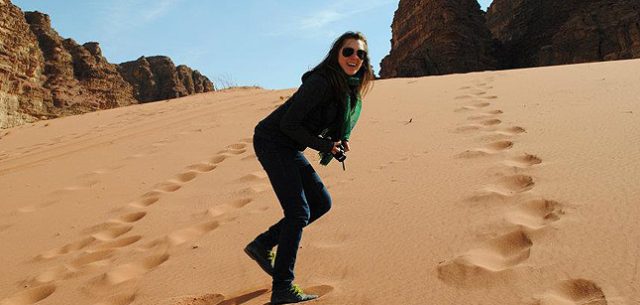 After Macalester: Deloitte Consulting
Study abroad: Amman, Jordan, January–May 2012
Program: CIEE Language and Culture. We spent half our time studying diplomacy, political science and international relations. The rest of the time we spent immersed in Modern Standard Arabic and colloquial Jordanian Arabic. I'd studied Arabic for two years before going abroad, but I learned a ton more while I was there.
Internship: In summer 2012, I interned at the U.S. State Department with the Near Eastern Affairs Bureau in the Office of Arabian Peninsula Affairs in Washington, D.C. My tasks varied greatly from day to day because the Mideast is so tumultuous. Anytime a senior official met with foreign leader they'd be provided with briefing packets, talking points, biographies. I wrote some of these and highlighted key issues of our bilateral relationship with any of the countries they'd be meeting with.
What was fascinating: It was amazing to see firsthand the process of how our foreign policy is created and implemented. I learned through observation. So much of what goes on is unique to State Department culture, and you'd never experience it unless you were in the middle of it. It was great to see how our foreign policy arm works on a day-to-day basis.
Getting a State Department job: You have to apply in the fall, and it's a lengthy process including security clearances. I was waiting in Jordan to hear if I'd get the internship.
Why work in D.C.? When you apply for a State Department job you put down your location preferences. I was originally selected to work in Morocco, but after being in Jordan for months I preferred to intern in U.S., and they were able to switch me.
Capstone: My political science capstone is about the new generation of Al-Qaeda, which looks different from the group we knew in 2001. Since 2005, the Al-Qaeda core has weakened and franchise groups have emerged as players. The threats from these groups are different from the ones we used to see, so our counterterrorism policy has to be different too. We are fighting a new generation of Al Queda groups, with majors ones in Yemen, Somalia, and North Africa; we're beginning to see more in Iraq and Syria as well. These new franchise groups are increasingly unwilling to attack the U.S. homeland and instead have shifted their targets to Western interests in their own countries, such as the U.S. consulate in Libya.
Capstone, Part II: Next semester I have to tackle my international studies capstone, which will probably focus on drone warfare and the questions that brings up about global hatred.
How it all began: Growing up in Amherst, Mass., I could take free classes at Amherst College. I took a class on post-Cold War American diplomacy, and it really sparked my interest in international relations and the Middle East. I just kind of ran with those interests once I got to Mac.
After Mac: I have a consulting job with Deloitte in Minneapolis. Deloitte looks for candidates who can think about things on a macro level. The world is so globalized and interconnected now, it means that business and economic trends aren't isolated but instead they interact with politics and international events. Deloitte believes that I will bring a unique perspective and understanding to consulting work. Later in life I hope to go into public service—possibly the State Department again.