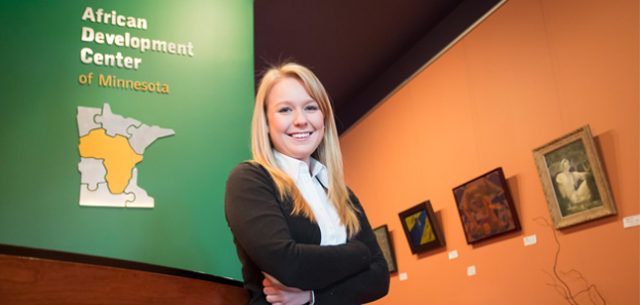 I chose to work with the African Development Center in the Cedar-Riverside neighborhood of Minneapolis because of its dedication to promoting economic justice, but after agreeing to work with them, I realized I was a bit stuck.
The ADC provides recent African immigrants with micro-loans for small businesses. They also assist African immigrants with homeownership and recently launched programs in business consulting and youth engagement. But I had no experience or relevant coursework in finance and no practical experience with homeownership or business.
So I decided to listen to the needs of the ADC's staff and clients in designing my project. They expressed the desire for an online banking system, so that loan recipients could manage their payments from home.
For emerging entrepreneurs, managing time well is the means to success, so their commute to make payments in person detracted from valuable work or family time. Despite my lack of previous experience in finance or computer science, I decided to create an online banking system. I quickly gathered a toolbox of resources, making contact with a software developer in India, consulting Macalester professors, and reading up on existing online banking systems. After two months, many phone calls to New Delhi, and the constant encouragement of the ADC, I succeeded in implementing this software. Now, over 200 loan recipients are able to make their loan payments online.
While nothing about my fellowship experience at the African Development Center was easy, it was the most rewarding work I have done. A Macalester education encourages you to think in a unique way, pushing you to pursue and achieve things you never thought you could have.