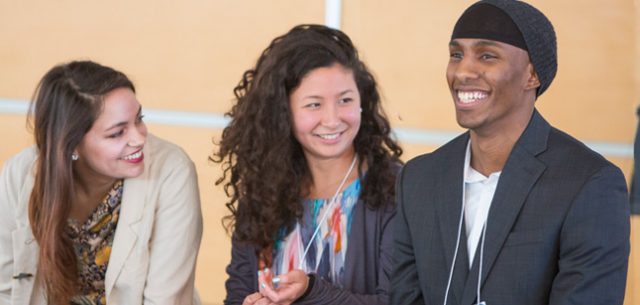 Three standout students win Mac's Global Citizenship Student Awards.
Macalester has long been known for its internationalism. One of the ways it recognizes that value is to annually bestow a Global Citizenship Student Award on the graduating senior who best demonstrates a commitment to the ideals and practice of high academic performance, internationalism, multiculturalism, and civic engagement.
This year all three finalists for the award—Abas Noor '13 (New Hope, Minn.), Rebecca Jackson 13 (El Paso, Texas), and Cecilia Martinez-Miranda '13 (Makati City, Philippines)—were so outstanding that each was proclaimed a winner of the Global Citizenship Student Award.
Each student was nominated by a faculty or staff member; together they demonstrate the breadth and depth of Macalester students' commitment to internationalism.
Abas Noor '13 emigrated to the United States as a 3-year-old, having been born in Somalia and spent his earliest years in a Kenyan refugee camp. At Mac he cofounded the student Global Health organization, was involved in the Student Global AIDS campaign, and worked at the Minnesota AIDS Project. Noor was also a Bonner Scholar—a four-year commitment to civic engagement.
This biology major, who is headed to medical school at Brown University, also found time to do medical research: in immunology at Macalester, in public health at Case Western Reserve University, and in stem cells at the University of Minnesota. He is bound to be a special kind of doctor. Says Noor, "I seek to not only empower my community to take charge of their health…but also to serve as an activist and voice for my future patients through health advocacy and education. Activism, I believe, complements the practice of medicine." 
Cecilia Angela Martinez-Miranda '13 began her civic engagement before arriving at college. While still in high school in Manila, the international studies and and educational studies double major cofounded WE International Philippines (WEIP), an NGO that works with garbage scavengers from the Smokey Mountain,in Tondo, Manila. Manila. In 2010 she and a fellow Mac student won a Davis Projects for Peace prize to build a community garden at Smokey Mountain.
Miranda-Martinez also took part in Mac's Lilly Program as a participant in Lives of Commitment Program, Worthy Question, and Keystone. She served as an issue organizer for the Civic Engagement Center, and was an active member of Mac's Development Group.
On the local front, Martinez-Miranda served as a youth program coordinator for Old Arizona Collaborative in south Minneapolis., where she designed and ran a floral business entrepreneurship program for at-risk teenage girls, raising $20,000 in grant funding to support the operation. "I believe global citizenship is the consciousness and drive to be in community," she says. After graduation Martinez-Miranda will be working with the Sundance Family Foundation to support youth social entrepreneurship in the Twin Cities. She will then return to Manila to work with WEIP.
Rebecca Jackson '13, raised in the El Paso-Juarez borderlands between the United States and Mexico, has made advocating for Latino students a priority during her time at Mac.  She has been an active member and co-chair of the student organization Adelante!, which brought UFW president Arturo Rodriguez to campus to speak about exploitation of migrant workers. Later the group organized around the DREAM Act, ultimately resulting in Macalester College officially endorsing the act.
Jackson also has worked as a Cultural House program assistant, as a writing assistant in the Media Studies Department—where she is a major (she also has a Latin American Studies major)—and in the Admissions Office as a multicultural student recruiter.
Her study abroad program took her to Bolivia, where she studied a community radio station that has developed its own theory of decolonization. In her junior and senior year she co-facilitated classes in both her major departments, always trying to show her students, she says, "that we must be simultaneously horrified by and inspired to change the world we live in."
Jackson leaves Macalester determined to "think about how to intervene in the world's injustices, and then do so." She hopes to ultimately earn a PhD in Latin American studies after spending a year teaching English in Korea.