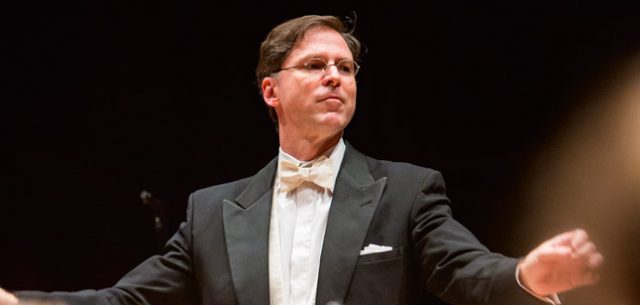 Mark Mandarano has ideas—big ideas—for Macalester's renovated music facility. Just one among many: a monthly midnight vinyl session in the music building's Hewitt Hall. "You'd choose a classic album like Pink Floyd and get the vinyl in there and play it like we did in the old days—just sit around in the dark and listen," he explains. "We have boxes and boxes of vinyl in storage that may never be used again. It could be a real treat to go back to that crackly sound."
If you think it sounds as if he's having fun settling into his first year as Mac's orchestra conductor, you'd be right. "Fun is a big part of it," says Mandarano, who concluded his tenure as the Moscow Chamber Orchestra's principal guest conductor just before moving to Minnesota last fall. "We work hard, but we're musicians. We have to play."
Putting his own stamp on the orchestra and chamber ensemble has been the focus of Mandarano's initial year. That focus includes developing a new culture—and a more nuanced style for orchestra rehearsals. "Sometimes people want to just get together and play, but I really want to stop and fix things— to alert them to what's going on in the music, how the individual parts are put together and relate to each other," he says. He concedes that may not be as satisfying as playing for 20 minutes straight, but believes that it leads to the group taking great strides musically and each musician gaining a deeper understanding of his or her individual part.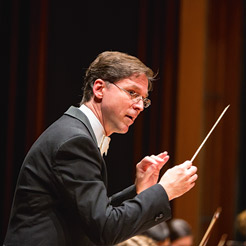 In addition to adjusting to Mandarano's conducting style, more than 50 students tackled a fall concert repertoire that included works by Schubert, Beethoven, Bach, Martinu, and Dvorak. This year was also their first rehearsing and performing in the newly renovated and expanded music building. Mandarano arrived just in time to set up his office in the new space. "This is spectacular," he says. "We have an absolutely gorgeous state-of-the-art facility, everything you could want."
Although he'd previously taught part time at Lehman and Bard Colleges and California State University–Fullerton, this career step toward full-time teaching represents a move away from his previous work as a professional conductor. Mandarano has worked with orchestras such as the Los Angeles Philharmonic, the Houston Symphony, and the New Jersey Symphony, and has conducted performances at Lincoln Center and Carnegie Hall. He's also the founder and artistic director of the Sinfonietta of Riverdale in New York City.
That experience impressed Mandarano's colleagues during the hiring process. "He's a truly professional conductor with many years of experience in front of professional groups," says Music Department chair Mark Mazullo. "His presence on our faculty and in front of our ensembles will help get the word out about music at Macalester to the Twin Cities community and beyond."
Despite that impressive resume and a graduate stint at Peabody Conservatory, Mandarano wasn't always focused on a music career. In fact, he studied both music and the sciences as a Cornell University undergraduate. "A music career wasn't a given for me from the age of five or six the way it is for a lot of musicians," he says. Because of his background, he can easily identify with Macalester's liberal arts students: "There are multiple paths, and it seems like Macalester is in many ways good for people who are still discovering what's right for them."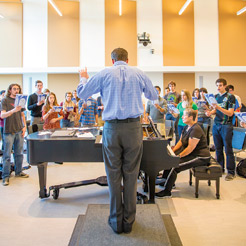 The result is an orchestra made up of a diverse group of students— political science majors, footballplayers, a clarinetist learning to play the oboe—passionate about music as well as the rest of what Mac has to offer. "This is a good place for discovery," he says. "You have a great facility, fellow students who are doing the same thing you're doing, and the possibility to take music as seriously as you want to—or just have it be one of many things you take part in while you're here."
Strong choirs are known for their music, not their silence. But singing in Macalester's Concert Choir takes more than simply hitting the right notes. As Mac's new choir director Mike McGaghie has settled into his first year on campus, he's been working on helping his students listen—and in the process, connect with the music and each other.
"One of my major goals is to teach students how to use their ears," says McGaghie, who conducts both the Concert Choir and the Highland Camerata. "When they listen with real awareness, they learn a lot about ensemble, the voice, and musical styles from different eras. They learn about cooperation, about give and take."
Just as important as listening is connecting with one another. Choir members call their group close-knit, thanks to activities like the annual fall retreat. Last autumn the group drove two hours north to a Brainerd, Minnesota, retreat center to spend a long weekend rehearsing, relaxing, and getting acquainted.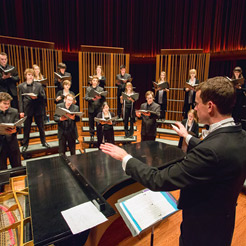 Students learn the value of a strong community, too. As Alejandro Cervantes '16 (Bay City, Mich.) explains, choir members quickly see that even just one singer missing a single rehearsal can negatively affect the entire ensemble.
For McGaghie, the retreat was a perfect opportunity to get to know his singers better as individuals and help them bond as a group. "Bonding experiences are very important for a choir, because our instrument is our being," McGaghie explains. "The voice is inextricably tied to one's personality, so letting students feel comfortable with each other and with me enables them to use that instrument to their full capacity."
McGaghie arrived at Macalester with that philosophy already well defined, thanks to his experiences as the Boston Conservatory's director of choral activities, assistant conductor of the Harvard Glee Club, and music director of the Concord Chorus. With a bachelor's degree from Harvard and a doctorate of musical arts from Boston University, he has taught courses in choral literature, Renaissance and Baroque performance practice, and aural skills.
The new director's wide musical range was obvious during his first semester on campus, when his ensembles tackled a repertoire that exposed the members to a variety of compositions, from Italian baroque to 20th century pieces. To his delight, McGaghie discovered that Macalester students possess a similarly diverse range of interests, with only a minority of them majoring or minoring in music.
"I love their curiosity," he says. "Because they all study such different fields, they come to rehearsal able to talk about things like religion or politics or linguistics or physics in addition to music. But naturally we talk a lot about the music, too: the composers, the language, and the politics that created the music."
Even by mid-year, members of his choirs were uniformly praising McGaghie's leadership. "He has this way of connecting with us," Cervantes says. "I did not expect—at a liberal arts college like this, with such a small student body—that we'd have such an amazing choir. There's a focus and an energy that's irreplaceable. He can be fun and relatable, but then he gets up on the podium and gets work done."
The result of that energy, says Kohei Hisakuni '15 (Hastings, Minn.), is a thriving group of singers. "Mike is a great motivator," Hisakuni says. "He's an inspiration to us all."
Rebecca DeJarlais '06 is a staff writer for Macalester Today.