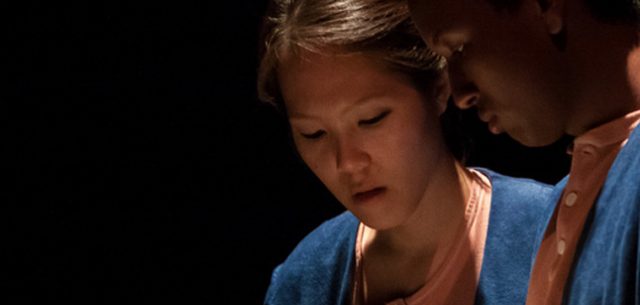 It's late April, when most seniors are simply worried about finishing their classes and senior projects, and looking forward to graduation. Yet theater minor Jeesun Choi '13 (Bangkok/Seoul) has an even bigger concern: She's about to take a leap into professional theater-making in May, when her piece Cecilies will be staged as part of the Red Eye Theater's Works In Progress series. 
The Works In Progress series is a six-month program intended to give local artists access to space and other practical resources—financial, technical, and administrative—necessary to develop ideas into performances. This year five artistic proposals, including Choi's, were chosen to be developed into 15-minute pieces, which will be performed in late May and early June. Choi applied for the Works in Progress series with collaborator Thalia Kostman '12, a recent Mac theatre graduate. 
Choi's piece, Cecilies, is devised, meaning that it has no script. Its four-person cast is currently shaping the story, which Choi describes as being "about a girl named Cecily. She's an urban individual who has four jobs and four hobbies, and she's busy all the time. So she decides to hire people to live parts of her life for her." The piece is intended to be farcical and funny, but as Choi notes, "In the end, it has a sting, as all good farces do." With the performance a month away, Choi estimates that she and her partner have devised 60 percent of the show.
Though Choi is an artistic head of the project, she doesn't see herself as a director, but rather as a leader of a collaborative process. "I'm learning more and more that structure is good. When people say 'Do whatever you want!' it doesn't actually help. I feel like the more rules I impose the better, because they're expected to be broken, and when they are broken that's when it's the most interesting." 
The most exciting part of the process, she says, has been interacting with other professional artists taking part in the Works in Progress series. This year, pieces are being produced by artists such as Peter Heeringa and Sam Johnson, members of respected local performance collectives Sandbox Theatre and Supergroup, respectively. "It's like, whoa," Choi says. "How am I even on the same artistic level as these people?" 
And she could have many more such theatrical encounters in the future: Pieces that start out in Red Eye's Works in Progress series are often expanded and remounted into full-length shows, often at the Minnesota Fringe Festival. 
The Works in Progress pieces will be shown at the Red Eye Theater, 15 W. 14th St., Minneapolis, on May 30–31, and June 1–2. Free admission.