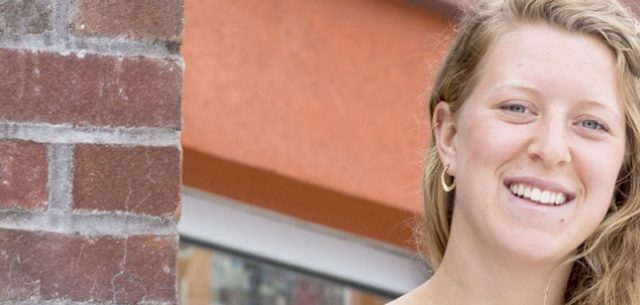 "An experience like this makes me appreciate being in an urban location," says Carey Hert.
"I never thought geography would interest me," says Carey Hert '13 (Seattle), an international studies major and community/global health concentrator. "I'd written it off." 
But a semester studying in Brazil inspired Hert to pick up a geography minor, after she was struck there by the integral role the discipline played in community health. 
Intrigued by the intersection of geographic spaces and inequality, Hert enrolled in Professor Dan Trudeau's Urban Social Geography class. The course sent students into the Twin Cities to engage with local organizations working in the field of urban geography, which is how Hert first came to Hope Community. 
Located on Franklin Avenue, just outside downtown Minneapolis, Hope Community's work includes low-income housing, neighborhood revitalization, and community building. As an intern with the Land Stewardship Project, Hert partnered with Hope to find out what community members were eating and how they were thinking about their health. What Hert and others discovered then informed the development of a more holistic food program expanding upon the community's existing garden project.
One of Hope's principal values is a commitment to conversation and grassroots organizing, which yields ideas for improvement from the community itself. Hert integrated this listening model into her own project, by conducting extensive one-on-one sessions with community members to learn about their dietary habits and histories. 
"Before you develop a program, it's important to check in with people," says Hert. "To positively impact a community, projects have to reflect the experiences and ideas of its members." Responding to information gleaned from these interviews, Hert led cooking and gardening workshops for kids and adults focused on using produce grown in the Hope Community garden, and also assisted at screenings of foodrelated documentaries such as Food Inc. and Supersize Me.
The relationships she built with Hope Community members were a vital part of her experience, says Hert. "You have to invest in those relationships if you want your project to work—it starts with the people." Those friendships also made Hert reluctant to leave at the semester's close, so she ended up staying on as an intern for months afterwards. 
Hert's extended commitment to Hope allowed her to watch the community grow and change, giving her a firsthand look at how a nonprofit group operates while deepening her connection to the Twin Cities.
Hert counts her work with Hope as one of the most important components of her college education. She has continued her community nutrition by volunteering with a North Minneapolis organization called Appetite for Change, which also offers community cooking workshops.
"Mac endeavors to reach out to the larger community," she says. "An experience like this makes me appreciate being in an urban location."