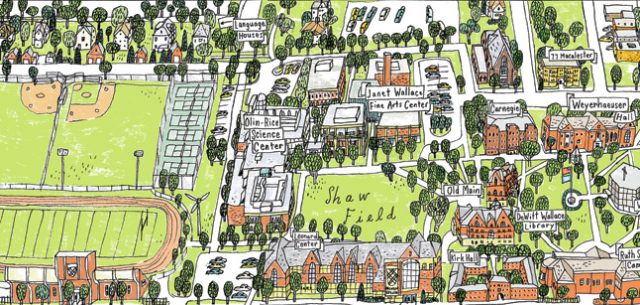 Students new to Macalester College's geography department are sometimes assigned to create "cognitive maps" of their campus life, outlining where they live, the streets they know by name, the routes and routines of their daily lives.
For many first year students, that natural habitat extends about as far north as Summit Avenue, south to the St. Clair Broiler, east to Dunn Bros., and west to the Mississippi. By the time students return for their second year, the familiar terrain may be enlarged to include an off-campus apartment on Portland Avenue, an attraction or two in Minneapolis, and a Super Target accessible by bus. Even so, says Matt Hyde '13, "If you ask most sophomores where Randolph Avenue is they have no idea."
Hyde's own perspective on Macalester's metropolitan setting was just as limited when he arrived as a freshman from Barrington, Illinois. But after four years at the college, Hyde graduated in May with a sense of community that extended from St. Paul's West Side (where he taught English as a Second Language at the Guadalupe Alternative Program) to the neighborhoods along Minneapolis's Lake Street (where he tutored at a Native American magnet school) to St. Paul's Frogtown area (where he and his geography classmates studied the effects of the foreclosure crisis) to the suburb of Prior Lake (where he studied sustainable land use design as a Chuck Green Fellow). "The Twin Cities initially felt really small to me, but it doesn't anymore," says Hyde, who starts an internship with National Geographic this fall. "Having so many experiences around the city gave me a better sense of the community—and a better idea of what I want to do."
Expanding the cognitive map of Macalester's wider community may be a matter of pride for geography majors like Hyde, but it has also become a growing part of the school's mission says Paul Schadewald, associate director of the Civic Engagement Center. "One of the things that makes Macalester distinctive is that we're located in the heart of a metropolitan area that provides so many possibilities for learning," he says.
Though Mac's urban setting has always been a selling point to prospective students and faculty, Brian Rosenberg's arrival as president in 2003 signaled a new commitment to making the most of community connections and resources across the Twin Cities. When Rosenberg arrived, says Schadewald, he asked every department to describe how they were using the urban context as part of their teaching and service learning, and then to imagine other ways they could take advantage of the college's urban environment. Although many departments already had decades-long relationships with nonprofits, public schools, and other community resources, the president's charge, says Schadewald, "gave us a spark to start thinking about how we train students to go into the community, and what they could accomplish."
Today, nearly 60 course offerings across 21 disciplines include some type of community-based learning component, ranging from Urban Geographic Information Systems classes analyzing data for neighborhood nonprofits to senior seminars requiring students to intern for public health and policy groups. During the 2011-12 academic year, 94 percent of Macalester students volunteered, donating nearly 87,000 hours in the community. Last year Mac students took on more than 350 different off-campus internships, many of which offered credit or allowed them to earn work-study dollars by working with a community partner or nonprofit.
Encouraging Mac students to seek experiences beyond the confines of the 53-acre campus is critical to creating the ethic of global citizenship that is part of the college mission, Schadewald says. "We know that having direct involvement in the community builds a lifelong sense of citizenship, and teaches lessons that can be transferred to lots of situations, like learning how to build community, how to address inequality, themes that come up in academic settings that are directly related to what's happening in the Twin Cities," he says. "As an institution rooted in the city, we also have a responsibility to be good neighbors, and to model that for our students."
Building on strengths
"Community-based learning'' may be a millennial trend in higher education, but it's been a tradition at Macalester for more than a century. In fact, the Neighborhood House on the St. Paul's West Side has welcomed student volunteers from Macalester since the early 1900s, as it has served successive waves of immigrants, from Jews fleeing Russia at the turn of the last century to Somali refugees in the 2000s. Each generation of Macalester students has helped to grow the campus's ties to the community, by doing such things as tutoring in St. Paul public schools and starting nonprofits like Family Tree Clinic.
"Higher education has a long history of going into the community, but often it was about counting up the city's problems," says Civic Engagement Center director Karin Trail-Johnson. Rather than viewing the Twin Cities as a living laboratory for one-way research, she says, "our goal is to build respectful connections and long-standing partnerships with the Jane Addams philosophy that everyone is a teacher and everyone is a learner. We teach students how to look at a community's strengths and help build on them."
For instance, the center collects into digital archives the results of student research about community issues such as affordable housing and public health so that "the next group of students can take it to the next level and move the issue forward," she says, rather than descending on the same community partners "to ask the same questions year after year." Trail-Johnson and her staff also teach students how to make their community service work more meaningful for both parties. That means Bonner Scholars, who earn their financial aid by tutoring St. Paul's public schoolchildren, are encouraged to tell those kids—who see them as role models—what it's like to be a first-generation college student. "We make it clear, 'Don't just help kids with their math—tell them your story, too,'" says Trail-Johnson. "Those are the community connections that will fuel you over four years."
For the faculty, the center hosts an Urban Resources Colloquium every summer to introduce professors—many from outside the region—to resources and potential partners among the state's more than 30,000 registered nonprofits and NGOs. Those connections have been critical for Professor Roopali Phadke, who teaches an environmental studies leadership practicum. Hers is a six-credit course that requires students to intern at an environmental nonprofit, returning to campus for weekly reflections about connecting classroom theory with real-life challenges. "Not only do these experiences open students' eyes to the variety of potential occupations, for those interested in the social sciences and policy issues, being in the city can be a fantastic laboratory for seeing how it really works," says Phadke. "Last fall, we placed students at 22 different organizations—something that's only possible when you have an active environmental community like ours in the Twin Cities."
Connections that stay close to campus
The network of Macalester alumni who have maintained close campus ties has been critical to creating fresh community-based learning opportunities for current students, says geography professor Laura Smith '94. "One of the first assignments I gave my students was to research the students living off campus, and as an offshoot of the project we ended up mapping alumni in the neighborhood," Smith says. Her class discovered surprisingly large concentrations of alumni living within walking distance of their alma mater, with a broad age distribution. "It was striking visual evidence of Macalester's influence on the surrounding neighborhood," she says, "which speaks to the idea that students here really do become invested in the community."
In fact, the community-based learning project her Urban GIS students tackled last spring was suggested by Joan Bennett '05, a geography major finishing up a graduate degree in urban planning. When Bennett came across new data she thought might help measure the effect of revitalizing efforts along Minneapolis's Mississippi riverfront, she got in touch with Smith and Kathleen Boe '73, interim executive director of the Minneapolis Riverfront Partnership (MRP). Over spring semester Smith's students did a deep dive on the available data, creating a framework for measuring the economic and social development of the riverfront.
In May, the class presented its findings at the Federal Reserve Board before board members and MRP staff. "Community groups are notoriously underfunded and overworked, so when you bring in 15 bright, driven Macalester students, they produce wonders," says Jacob Wascalus, a Federal Reserve Board community development project manager who attended their presentation. "The impact goes way beyond being a feel-good effort for college students and the community. They gave us a viable, useful product."
Harry Kent '13 (Columbus, Ohio), a geography major who contributed to the study, says experiences like this one helped make his coursework feel more relevant and worthwhile. "College can feel like such an individual experience that even though it's meant to broaden your horizons, in other ways it can narrow them," he says. "Getting off campus to see how the community really works made me feel part of something much bigger."
Course correction
Another discovery students make while moving from classroom to community is what they don't want to do. Discerning which career paths to avoid "is an important thing to learn early on so you can do a course adjustment," says internship program director Michael Porter. "If you're taking advantage of opportunities to explore those questions, you'll graduate with a much stronger sense of what you're good at and where you want to take those skills."
Creative writing major Rebecca Schultz '13 (Chicago) started that refinement process last year during a summer internship at The Loft Literary Center in Minneapolis. At her exit interview, she asked her supervisor to suggest other ways she could connect with the Twin Cities creative community, a request that led to credit-earning internships at literary magazine Paper Darts, nonprofit publisher Coffee House Press, and brand identity firm Capsule. "I can't imagine my Mac education without those experiences," says Schultz, who by graduation had landed a job as publicist for Milkweed Editions. "Kind of miraculous," she calls getting hired to do work she loves. "But I think the lesson is if you connect with the community and stick around, you'll find your way in."