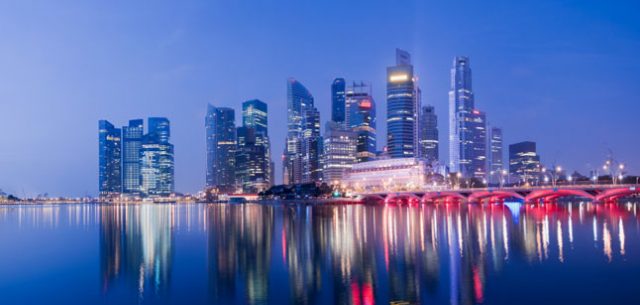 Studying abroad is an integral part of the college experience for many Macalester students. Over the past few years, the college has begun developing exchange agreements with partner universities across the world in which Macalester sends students to study at host institutions and receives students from those same partner universities to study at Macalester. 
The first two exchange agreements were initiated last year with Nanyang Technological University (NTU) in Singapore and the Institut d'Etudes Politiques of Paris (Sciences Po) in France. Macalester welcomed its first students from Sciences Po and NTU last fall. 
In turn, Macalester sent Noah Rosen '13 to spend the 2012 spring term at Sciences Po, a highly regarded political science/international studies college, and last fall physics major Chris Krapu '13 (Valley City, N.D.) was the first Macalester student to study at Nanyang Technological University, a science and engineering school in Singapore.
We caught up with Krapu in the spring, right before his graduation. Here's what he had to say about his experience at NTU.
 
What drew you to the exchange program with Nanyang?
I was looking for an exchange program that would allow let me take upper-level science courses and gain exposure to a large research university in Asia. 
How different was your time spent at Nanyang from a semester spent at Mac?
I lived in the on-campus dorms at NTU. They were right next to the academic buildings and cost about a fourth the price of living off campus, for the same accommodations. I spent most of my time working and studying, just as I would at Macalester. During the weekends and breaks, however, I was able to travel throughout neighboring countries in Southeast Asia.
Tell us a bit more about your travels around Southeast Asia.
I ended up traveling through Malaysia, Thailand, Laos, Cambodia, and Hong Kong while overseas. Virtually all the exchange students at NTU had similar plans for weekend trips or longer excursions during the break periods so it was easy to find groups to link up and travel with. Some of the highlights of these trips included exploring the downtown and nightlife of Kuala Lumpur, Bangkok, and Hong Kong as well as more culturally focused excursions to sites in Cambodia and Laos. The strength of the U.S. dollar and the relative safety of these places for tourists made them all super accessible for student travelers. 

What were the most challenging and rewarding aspects of studying abroad?
Most challenging was the work; my coursework was just as difficult if not more so than the physics courses I'd taken at Macalester, and there was definitely a culture of competing for top grades. The most rewarding aspect was the chance to make new friends and to network—not just with students from Singapore but also with students from other exchange programs and NTU faculty.
 
What did you do for fun?
I participated in club rugby and parliamentary debate. I was also fond of visiting the open-air cafeterias.
What did you like the most?
Cheap, excellent food is available every few blocks in clean, well-maintained public cafeterias. Since many Singaporeans do not have the space or time to cook for themselves, there is a great low-price market for traditional Chinese and Malay food that rivals restaurants costing five times as much. Also, the public transportation covers nearly every square inch of the country and arranging trips using it is super easy.
What was the hardest part of the experience?
The hardest part of my study abroad experience was getting used to the heat and humidity. I grew up in North Dakota so I've always lived in a cool, continental climate. For a few weeks I ended up drenched in sweat an hour after waking up every day. On the other hand, there was perfect beach weather nearly every day after the periodic thunderstorms rolled through. 
 
 Did you experience any reverse culture shock upon returning home?
Aside from the shock of leaving the tropics and returning home to minus-15 degree temperatures, no.
What is one of your favorite stories about your time abroad?
Before I left for Singapore, I was working in Texas on a physics research project. While I was doing this, I referenced work by an NTU professor. I contacted him before leaving the U.S. and got a personal tour of his research facilities at NTU when I arrived, as well as an offer to work alongside him in his labs performing work in optics and nanotechnology. 
Would you recommend the Nanyang program to other study abroad students?
Definitely. Nanyang has great research facilities and excellent course selection. Coupled with a location that is both extremely safe and culturally stimulating, it makes for an excellent choice.