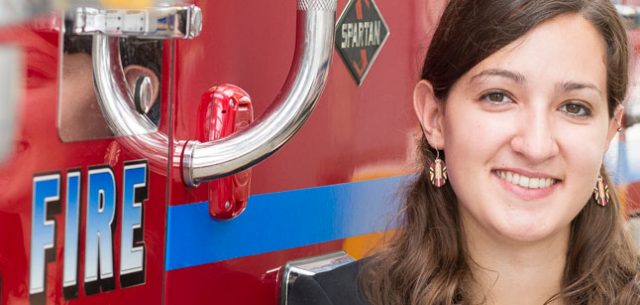 Admittedly, becoming the St. Paul Fire Department's first student intern may seem like an odd move for a political science and Hispanic studies major. But Courtney Nussbaumer '13 (Brookfield, Wis.) has enjoyed her paid position as the department's social media intern.
The experience, she says, has given her an inside look at how government functions. Through drafting their social media policy, she learned about the importance of copyright law, being explicit with policy language, and the elusive nature of social media. "The government is relying more on social media to get word out to its citizens, and a lot of thought goes into the message and delivery," says Nussbaumer.
Managing all the department's social media outlets and coordinating its intergovernmental communication system were also some of Nussbaumer's responsibilities. In addition, she attended meetings of the City of St. Paul information officer and the state association of fire chiefs, investigators, and marshals. 
Attending these meetings, she learned even more about how city and state governments function. "I didn't know how extensively the fire department lobbies," she says. The state fire association's lobbyists closely follow bills, initiatives, and amendments that pass through the house and senate, meeting weekly to track various developments, from getting sprinklers installed in all high-rise apartment buildings to making sure the right parties are contacted in case of a hazardous waste spill.
Unique opportunities, including going into a live fire—fully suited up and with firefighters, of course—were among the unusual parts of her job.
Nussbaumer worked for the fire department until this month, when she left for Chile, where she'll spend a year working as a teaching assistant. After that, she plans to attend law school at the University of Wisconsin-Madison.