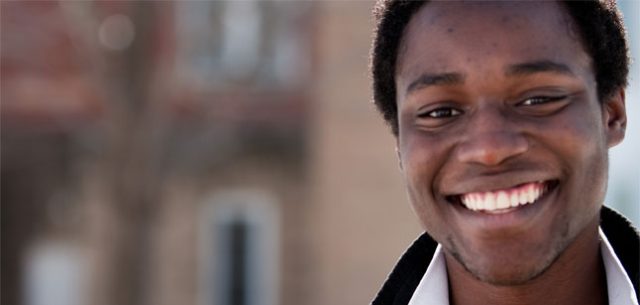 Long passionate about Africa and eager to help tackle its issues, Kwame Gayle '11 is happy to be heading to Botswana. There he will serve as a Princeton in Africa teaching fellow at the Maru-A-Pula School in the capital city of Gabarone, which is located near the border with South Africa.
A 14-year-old program, Princeton in Africa develops young leaders committed to Africa's advancement by offering yearlong fellowship opportunities with a variety of organizations that work across the African continent. This year 46 recent college graduates from 30 colleges were chosen from an applicant pool 10 times that size to work in advocacy, agriculture/nutrition, health, education, and other areas of pressing need.
Gayle, who is from Jamaica, majored in anthropology with an African studies concentration while at Macalester. As a junior he studied abroad in Johannesburg, South Africa, on an arts and culture program. Although Gayle spent his first two years following graduation teaching English in Japan, he never lost sight of his dream to work in Africa.
"I'm really excited to get back there," he says. "Once I studied in Africa, my love for it grew. I'm also really interested to learn about a new country, its culture and language, and to meet kids from all over the world."
"Once I studied in Africa, my love for it grew."
About half the students at the Maru-A-Pula school are Botswanans—mostly impoverished kids on scholarship—but the other half are the children of ex-pats from across the globe who are living in Gabarone. The middle/high school was chosen for the Princeton in Africa program both because of its large Botswanan population and because of its deep commitment to civic engagement: The students spend each afternoon working on service projects throughout the community.
Coincidentally, another Mac alumnus, Mike Snavely '12, was also placed at Maru-A-Pula school by Princeton in Africa. He completed his service last summer and is now enrolled in the MD/PhD program at Washington University.
Gayle will spend a year completing his African fellowship. After that, his plans aren't clear, though he has plenty of ideas. He will apply to anthropology and African studies graduate programs and also look into jobs that would allow him to stay in Africa.
In the meantime, Gayle—who heard about Princeton in Africa from a college friend—would like more of his fellow Macites to know about the exciting program. "It's a good fit for Mac students," he says. "We possess all the qualities they're seeking in fellows."