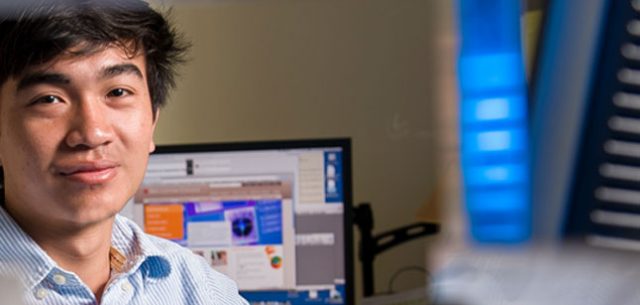 What We Did Over the Summer: Macalester Internships
By the time they graduate, two-thirds of Mac students complete internships, many of them only a few miles from the college's St. Paul campus.
But over the summer months they range farther afield. In the summer that just passed, Mac students worked throughout the country, at such places as Microsoft, Hearst Publishing's Veranda Magazine, and the United Nations Population Fund.
Here is a sampling of some other Mac student summer internships.
AMERICAN STUDIES
Julia Gay, Youth Programs Intern, Adoption Network
Molly Sir, Social Work Intern, Lawyers for Children
Maya Vilaplana, College Booking Collective Summer Fellow, Bedlam Theatre
BIOLOGY
Katherine Mohan, Research Intern, Alzheimer's Research Center
Sana Naz, Teacher, Breakthrough Miami
COMPUTER SCIENCE
Sophors Khut, Cloud Development Intern, Valtira LLC
Jie Shan, Software Development Intern, Microsoft Corporation
ECONOMICS
Loveza Ahmed, Business Administration/Marketing Intern, Extended Exposure  
Paige Blazei, Outreach Coordinator & Executive Assistant, Consulting for Nonprofits
Jose Caballero Ciciolli, Analyst Intern, Elevate Property Management
Kunal Chauhan, Finance Intern, Community Reinvestment Fund, USA
Kyle Coombs, Research and Development Intern, Community Land Trust of Schenectady, Inc.
Christopher Curtis, Summer Intern, Punchcard
Allison Dautrich, Research Assistant, The Stats Group
Yinong Ding, Data Analyst, Midwest Dental
Papa Diop Fund, Accounting Intern, Ameriprise Financial
Huiting Fan, Market Analyst Intern, Heritage Wealth Architects
Disa Hynsjo, Summer Associate, Dexis Consulting Group
Yangming Li, Quantitative Analyst Intern, Lake Hill Capital Management
Ha Song Pham, Research and Public Education, Minnesota Housing Partnership
Amita Ramachandran, Finance Intern, KMS Financial
Yuqi Ren, Finance Intern, First Children's Finance
John Sankara, Research Analyst, Metropolitan Economic Development Association
Denghui Sun, Private Equity Analyst, Black River Asset Management
Khanh Long Tran, Wealth Management Intern, UBS Financial Services Inc.
Yue Wang, Financial Analyst Intern, Ecological Business District Management Committee of Jinjiang District Chengdu
Xiang Yuan Yang, Investment Banking Analyst, JMP Securities
ENGLISH
Soo Young Lee, Marketing and Communications Intern, ESP System Professionals, Inc.
Hannah Rehak, Access Intern, St. Paul Neighborhood Network
Marina Weisburg, Editorial Intern, Veranda

Magazine, Hearst Publishing
ENVIRONMENTAL STUDIES
Anne Shapiro, Solid Waste and Air Quality Intern, Minnesota Pollution Control Agency
GEOGRAPHY
Zijin Chen, Rail Operations Intern, Metro Transit Rail Systems Maintenance
Zhe Yu, Lee Finance Intern, Rainforest Action Network
Shelby Maidl, Project Intern, Sustainable Ely
INTERNATIONAL STUDIES
Lisa Hu Policy, Development/Implementation Focus Intern, Ramsey County Public Health (Environmental Health Division)
Ruxi Zhang, Proliferation Prevention Program Research Intern, Center for Strategic & International Studies (CSIS)
MATHEMATICS
Cuong Le, IT Coordinator/Instructor, Exploration Junior Program
Shivangi Pattnaik, Intern, Appfirst Inc
MEDIA AND CULTURAL STUDIES
Jonathan McJunkin, Editorial Intern, City Pages
Kate Spencer, Office Intern for News Desk, The Herald of Randolph (Vermont)
POLITICAL SCIENCE
Alexander Dangel, International Law Research, K&L Gates LLP
Bassem El Remesh, Banker, Exploration Summer Programs

 

Jacob Waxman, Research Intern, Peacekeeping and Stability Operations Institute
Jolena Zabel, CCMC & UNFPA Intern, United Nations Population Fund
PSYCHOLOGY
Emily Bachhuber, Healthcare in Resource-Poor Setting Intern, Embangweni Hospital
Myriem Benkirane, Servant Leader Intern, Park Avenue Youth and Family Services
Ariana Lewis-Stevens, Intern, BioMedLink
Bunchung Ly, Faculty Member, Explo at St. Mark's School
Simon Sanggaard, Project Assistant, University of Rochester's Center for Translational Neuromedicine
Christopher Alston, Investigative Internship, Bureau of Criminal Apprehension