Beth Bergman '73 and her Wet Paint store are beloved Grand Avenue fixtures.
Owner: Beth Bergman '73
Business: Wet Paint Artists' Materials and Framing, 1684 Grand Ave., St. Paul
Years as owner: 29
Number of art materials at Wet Paint: 35,000
Favorite art supply: Must she choose just one? "Paint, of course, and I love paper. Paper can be a work of art in itself. There are subtle differences between a paper made in a mill in Montreal and one made in Italy or Asia. And brushes! A handle that's weighted just right with a beautiful finish and just the right hair with the perfect 'snap.' It's very tactile and you miss out on that if you buy online."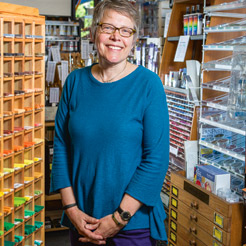 Industry honors: Bergman was inducted into the International Art Materials Association Hall of Fame at this year's annual conference, held in Minneapolis.
Mac in the '70s: "It was the [late art professor Jerry] Rudquist era. Studio art was a nice blend of learning techniques and developing subject matter and what you wanted to say. It was meant to nurture your art and teach you how to see."
Evolution from art major to art materials: After graduating, Bergman spent eight years working for a Fortune 500 company in St. Paul while spending her evenings painting in a shared studio space. At 30 she decided to work for Hugh Huelster '74, founder of Wet Paint. "So it was only natural that when Hugh was ready to sell a few years later, I would buy the business."
Giving back: Bergman has donated money to the Studio Art renovation and expansion project in the Janet Wallace Fine Arts Center, so that future student artists will have great facilities in which to learn and create.