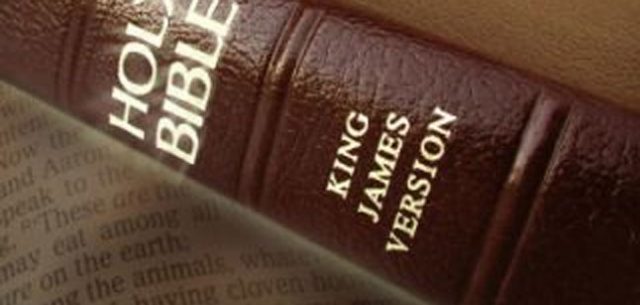 "The Bible is about the humble people of the world," explains Professor Theresa Krier on the first day of her new course. This, she says, is precisely what draws her to the Judeo-Christian scriptures: their attention to ordinary families, their honesty about human suffering, and their bizarre accounts of the divine. Krier hopes her students will find endearing characters and surprising plots between the covers of the Bible, as they would in any great literary work. 
The idea for her new course, The Literary Bible, formed while she was "scanning the horizons of my imagination for new ways to put Medieval and Renaissance texts on the map," says Krier. No such map, she said, would be complete without the King James Bible. A committee of approximately 60 scholars produced a new translation of the Christian scriptures between 1604 and 1611, a time of great flexibility for the English language. Krier likened this version's authors' "willingness to experiment linguistically" to the abiding rhythms and phrases of Shakespeare.
In addition to The King James Bible, Krier's course covers John Milton's Paradise Lost, Geoffrey Chaucer's The Canterbury Tales, and William Shakespeare's King Lear. Other readings give a nod to more recent authors who have engaged the Bible, including William Faulkner, Gerard Manley Hopkins, Martin Luther King, Jr., and Elizabeth Bishop. Course materials also include musical selections ranging from Benjamin Britten to Cat Stevens.
Krier spent two years perfecting a set of creative works to accompany the King James Bible, settling on these particular texts because she felt they would resonate together when arranged around the scriptures. Additionally, Krier chose works that wrestle with the Bible even while celebrating it. "The Bible is dynamic and creatively responsive," Krier says. "It even argues with itself."
Students brought a variety of experiences with the Bible to the first day of class. Julia Hobart '15 (Bellingham, Wash.) looked forward to reading the Bible for the first time. "The impact of the Bible in Western culture can't be overemphasized," she says. Augusta Funk '14 (Hudson, Ohio) experienced the Bible in a scholarly setting when she took a core humanities course at Boston University. She has enjoyed reading the Bible for its poetry, storytelling, and craft. Hobart agrees: "I never thought of the Bible in terms of its art."
Krier hopes to share the Bible's "amazing poetry" and "great stories" with students again in coming semesters. She points out its historical role as a common base for storytelling, as literature for the literate and the illiterate alike. Understanding the Bible, she says, is just as important for writers as studying Greco-Roman mythology.  "These are the great storytellers."